Search Select Advanced Fields in Sage CRM is one of the powerful tool which helps to sort and search the data efficiently. Just by inputting first few letters of the data, it reduces the search results by sorting the data from the entity's master table. SSA field of Sage CRM has itself got various properties which proves very useful with time.
New Stuff: Append User Name on My CRM Menu Option in Sage CRM
In this blog, we will discuss about the working of one such property of SSA field i.e. Restrictor field. Consider a scenario where you want to allow the user to select the Address of the Company based on the Company name selected in other SSA field as shown below.
Simply adding a Address (SSA) field will open up all the Address details; whether it belongs to company or person for the user as shown above. To restrict the data, you just need to set one single value for Restrictor field property as shown below.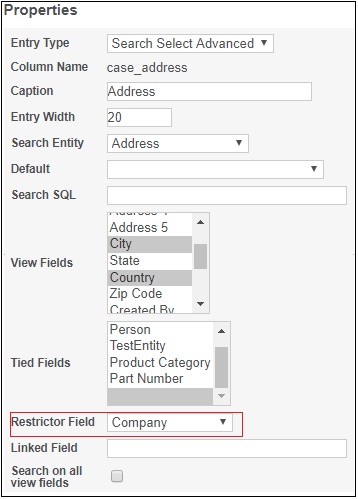 Now add search select advanced field with restrictor field value on a screen as shown in below screen shot. The Address field will now restrict displaying the Address records within the context of Company selected in first field.
Also Read:
1.    Troubleshooting Search Select Advance field issue
2.    Control Display Format of Search Select Advanced fields in Sage CRM-II
3.    Adding Search Select Advanced Field on Web Order Entry Screen
4.    Increase number of records in Search Select Advanced field
5.    Adding Hyperlink on Search Select Advanced Field in View Mode