In Sage CRM, one can easily understand which user has been logged into CRM from My CRM tab.
New Stuff: "Send to MailChimp" button in Sage CRM 2017
Generally, when users logged into Sage CRM, browser shows current Sage CRM tab name. For example, if user's landing page is Calendar then browser tab will show the Sage CRM tab name as below.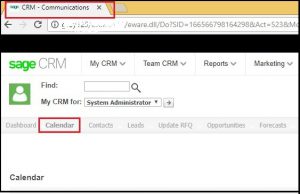 Some users will be having landing page as Dashboard, so browser tab will be as shown below.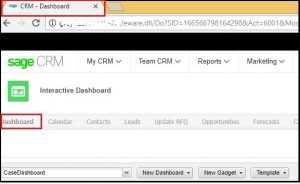 In this blog, we will discuss how to display logged in User Name into highlighted section. You need to follow below steps to do the same.
Create a JavaScript file say TabCaptions.js and save on below path :
<< Sage CRM Installation Directory >>:\Program Files (x86)\Sage\CRM\<< CRMINSTANCENAME>>     \WWWRoot\js\custom\
Add following code into TabCaptions.js file and save.
crm.ready(function()
{
document.title = CurrentUser.user_displayname;
})
Clear browser cache and check the result.
Once done, you will find that currently Logged in username will be displayed into browser as shown below.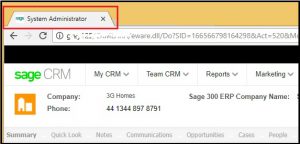 This functionality will be helpful when single person is giving demos with multiple users.
About Us
Greytrix is one stop solution provider for Sage ERP and Sage CRM needs. We provide complete end-to-end assistance for your technical consultations, product customizations, data migration, system integrations, third party add-on development and implementation expertise.
Greytrix has some unique integration solutions for Sage CRM with Sage ERP's (Sage X3, Sage 100, Sage 500 and Sage 300).We also offer best-in-class Sage ERP and Sage CRM customization and development services to Business Partners, End Users and Sage PSG worldwide. Greytrix helps in migrating to Sage CRM from ACT, Goldmine and other CRM's.
For more information on our integration solutions, please contact us at sage@greytrix.com. We will be glad to assist you.