In the current year i.e. 2020 Sage has come up with the latest release of Sage CRM (2020R1 and 2020R2). These new updated versions are come up with additional features and compatibilities. Also, most of the minor bugs related to custom entities also fixed in these versions. As we know Sage CRM Business Manager is one of the most useable product for the best business solution. That's the reason many clients and organizations use Sage CRM Business Manager to keep their business progress majestic.
New Stuff: Error on Favourites List in Sage CRM
Many organizations are upgrading their Sage CRM to the latest version. So Greytrix has also made Sage CRM Business Manager compatible with the latest Sage CRM 2020. Greytrix business manager is a combination of following Add-ons:

1. Project Manager
2. Budget Planner
3. Event Manager
4. Contract Manager
5. Resource Planner

Business Manager is a combination of all the modules which are important for the business purpose. Using this user can keep track of all the modules in one place. Business Manager helps to manage all the projects of organizations and their budgets as per that you can manage the resources as well. This how a business manager helps or assist to manage a business easily.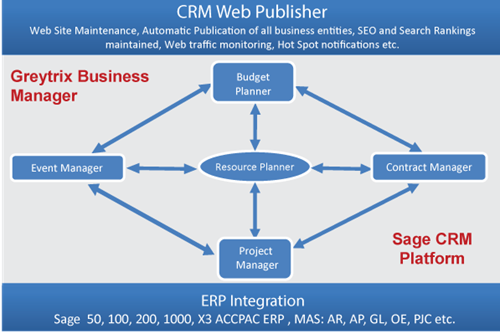 Business Manager
Below are the key features of Business Manager Add-on wise:
Project Manager:
The Project Manager has improved functionality with project status, timesheet entry, Gantt Analysis, etc. It's completely integrated with Sage CRM so users can able to take benefits searching, document management, reports, etc. Also, the user can verify their project status, progress, and calculations as per the scheduled timings.
Budget Planner:
The main concept of this module is budget planning, allocation on monthly basis. It's a very effective management tool in the business process. Budget planner contains Margin & Graph Calculations, Edit Budget Summary Details, Budget line items, Budget line item Summary, Editing Income / Expenditure Line Items, Adding an Income / Expense line item, Expenditure Requests, Approval of Expenditure Requests.

Event Manager:
Event Manager will allow users to manage their activities, resource with the help of predefined modules. One can enter data like event name, a number of attendees, start date, and end date for an event. The Event Management Facility provides the ability to create intelligible profiled information on your Event including all critical metrics. Therein it is required to regulate the communications and contacts around the Event itself including the Attendees themselves, Supplier, Partners, etc. Also, there is an event workflow which determines how an event goes during its lifecycle.
Contract Manager:
Contract Manager allows users to store data regarding contracts like title, supplier contact, duration of the contract, the value of contract, start date, end date, assigned resource, etc. User can process their contracts easily using the Contract workflow. This workflow can easily customizable according to business logic. Also, the user can easily create a contract document from the contract summary.Resource Planner:
This module mainly used to manage and plan the availability and use of each resource. Also, users can see the management panel as per their convenient i.e. Horizontal or vertical. Resource Planner gives you a visual representation of all available resources. Each resource will have allotted time slots, displaying the time of day, creating a resource Time Box. Time assigned in Resource Planner will automatically be entered in the My CRM Calendar area; time assigned in the user's calendar will also be marked as allocated in Resource Planner. Also, users can easily be assigned or switched the assigned resource by drag and drop the created communication to other resource.

For detailed information you can download the brochure from below link,
https://www.greytrix.com/resources/sage-crm-business-manager.pdf

Hope this helps!

About Us
Greytrix – a globally recognized and one of the oldest Sage Development Partners is a one-stop solution provider for Sage ERP and Sage CRM organizational needs. Being acknowledged and rewarded for multi-man years of experience and expertise, we bring complete end-to-end assistance for your technical consultations, product customizations, data migration, system integrations, third-party add-on development, and implementation competence.
Greytrix has some unique integration solutions developed for Sage CRM with Sage ERPs namely Sage X3, Sage Intacct, Sage 100, Sage 500, and Sage 300. We also offer best-in-class Sage ERP and Sage CRM customization and development services to Business Partners, End Users, and Sage PSG worldwide. Greytrix helps in the migration of Sage CRM from Salesforce | ACT! | SalesLogix | Goldmine | Sugar CRM | Maximizer. Our Sage CRM Product Suite includes addons like Greytrix Business Manager, Sage CRM Project Manager, Sage CRM Resource Planner, Sage CRM Contract Manager, Sage CRM Event Manager, Sage CRM Budget Planner, Gmail Integration, Sage CRM Mobile Service Signature, Sage CRM CTI Framework.
Greytrix is a recognized Sage Champion Partner for GUMU™ Sage X3 – Sage CRM integration listed on Sage Marketplace and Sage CRM – Sage Intacct integration listed on Sage Intacct Marketplace. The GUMU™ Cloud framework by Greytrix forms the backbone of cloud integrations that are managed in real-time for the processing and execution of application programs at the click of a button.
For more information on our integration solutions, please contact us at sage@greytrix.com. We will be glad to assist you.