Technology and globalization are leading the business landscape. In order to stay ahead of the competitive curve in the new year, smarter enterprises are investing in technology solutions that will assist them to connect better with their customers. And the need to gain analytics in a single comprehensive solution has become imperative to enterprises. This includes planning the projects, understanding the resources, charting the budgets, and much more. Greytrix – a global provider of ERP CRM services, who has strengthened its market position as a Sage Development Partner for ERP and CRM with the Rockstar ISV status brings to your business Sage CRM Business Manager this new year.
Over a period of time, every business should keep a track of how successful and effective strategic decisions has turned out to be. This involves planning for optimum utilization of the five crucial elements that run your business – Resources, Budgets, Events, Contracts and Projects. To have a significant impact on your organizations, Greytrix offers Sage CRM Business Manager – a holistic solution that manages all the components of your business.
"Choose the best – Greytrix Sage CRM Business Manager: A holistic solution to manage all the components of your Business i.e. Events, Resources, Contracts, Projects and Budgets"
Click here to register for the upcoming webinar on this topic
A successful business revolves around coordinated approach of managing Resources, Contracts, Projects, Budgets and Events. With growing challenges in administration of business becoming relentless day by day, it's essential to contend projects with tight timelines, optimize your resources, systemize the lifecycle of contracts, and most imp.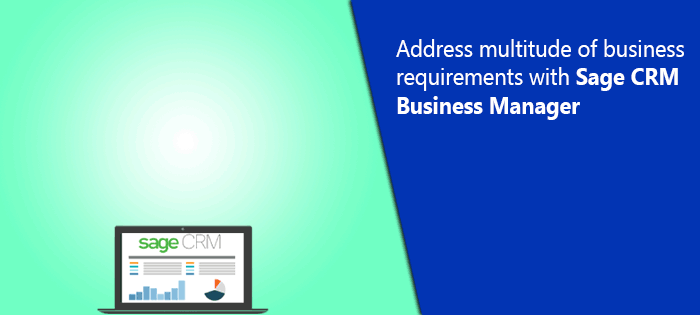 Understanding the core facets of an effective business management, Greytrix introduces a comprehensive solution that addresses multitude of business requirements with Sage CRM. Greytrix Business Manager – a combination of end user applications includes Sage CRM Project Manager, Sage CRM Contract Manager, Sage CRM Resource Planner, Sage CRM Event Manager and Sage CRM Budget Planner that explicitly administers the building blocks of your business.
Businesses need to introduce effective resource allocation for attaining efficiency in individual productivity. Sage CRM Resource Planner will provide you with a drill down vision of the resources. In synchronization, Sage CRM Project Manager will assist you to keep track of Projects, view milestones of project tasks and the resources associated with it. All these processes become void without budgets, for which Sage CRM Budget Planner will draw an outline to plan the budget of your projects and events, limiting expenses of the organization. Sage CRM Contract Manager is crucial for optimizing the lifetime value of your business relationships. You can centralize, strategize and systemize the entire contract lifecycle from expiration to renewal. Sage CRM Event Manager takes control of the activities, resources and schedules of every event. All in all, Greytrix Business Manager is a cohesive solution that seamlessly addresses your business activities facilitating smooth functionality.
Explore the limitless possibilities from a single holistic business solution – Greytrix Sage CRM Business Manager.
Watch Greytrix Sage CRM Business Manager Product Demo –