Lately, Sage CRM has come up with various options that would help in searching and accessing the records with an ease. Entity specific search screens, Quick find, Recent List and Favourites are some of the options which helps the Users to access the records within a quick span of time. Moreover, the Favourites and Recent List are user – specific and list out records based on the User preference. The added advantage of these lists is that Users can mark Primary as well as Custom entity as the Favourites just by clicking on the Star icon available on the Top content on entity's summary screen.
Have you ever faced an error like "Please Contact your system administrator" while accessing a record from Favourites list? If yes, then we have got the solution of how to resolve this issue in Sage CRM.
New Stuff: Mapping Sage 300 Salesperson to CRM user
Considering an example, where one of the users added an entity record in Favourites list, for example Opportunity record and on accessing the same record from Favourites list user is facing error such as "Please Contact your system administrator". Below is the screen shot for your reference.

There are two main check points as listed below from where we started debugging the issue, but no luck –

1. Is the error visible for all users or for any specific user? In our case, the error was user specific and it was working fine for rest of the users.
2. Whenever user add a record to their Favourites list, an entry goes into the Database table "UserRecords". We executed below query to check whether the record was inserted into the table or not, but it was inserted.

SELECT * FROM UserRecords (NOLOCK) WHERE usrc_Deleted IS NULL AND usrc_EntityId=10 and usrc_UserId=<userid>
Here, usrc _UserId is nothing but the user who is facing the error and as it was Opportunity entity's record thus the usrc_EntityId value is mentioned as 10; as Opportunity Entity's table ID is 10.
After further investigation, we found that the Description field is not visible on Opportunity summary screen even though there is no custom java script code to hide the field. As the Favourites list loads the records with the help of Description field value for identification, our next step was to check the Field level security settings. We checked with the field level security for Description field and found that Read and Write access denied for some respective user. Refer below screen shot for better understanding.

To modify the field level security rights just follow the below steps:
1. Go to Administration -> Customization -> Opportunity
2. On Fields Tab, find the Field to change the security level, and click on Pen Icon. Refer below screen shot.

3. Make the changes for read access and write access and Click on Continue button.

After allowing Read and Write access at field level security rights for Description field in opportunity entity, you can now see that the error "Please Contact your system administrator" is no more visible and user can now access the records from Favourites List easily. Refer below screen shot for your reference.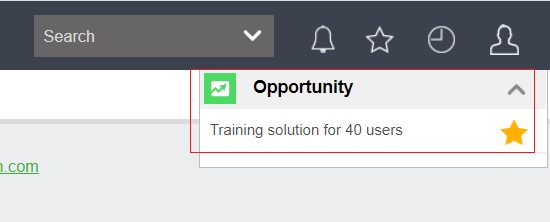 In this way, by applying adequate field level security rights for users you can avoid such errors in Sage CRM for Favourites list. Please note, this blog is not restricted specifically to Opportunity entity but the same settings will help you to resolve issue faced for other entities as well such as Company, Cases or Person entity etc.
About Us
Greytrix – a globally recognized and one of the oldest Sage Development Partners is a one-stop solution provider for Sage ERP and Sage CRM organizational needs. Being acknowledged and rewarded for multi-man years of experience and expertise, we bring complete end-to-end assistance for your technical consultations, product customizations, data migration, system integrations, third-party add-on development, and implementation competence.
Greytrix has some unique integration solutions developed for Sage CRM with Sage ERPs namely Sage X3, Sage Intacct, Sage 100, Sage 500, and Sage 300. We also offer best-in-class Sage ERP and Sage CRM customization and development services to Business Partners, End Users, and Sage PSG worldwide. Greytrix helps in the migration of Sage CRM from Salesforce | ACT! | SalesLogix | Goldmine | Sugar CRM | Maximizer. Our Sage CRM Product Suite includes addons like Greytrix Business Manager, Sage CRM Project Manager, Sage CRM Resource Planner, Sage CRM Contract Manager, Sage CRM Event Manager, Sage CRM Budget Planner, Gmail Integration, Sage CRM Mobile Service Signature, Sage CRM CTI Framework.
Greytrix is a recognized Sage Champion Partner for GUMU™ Sage X3 – Sage CRM integration listed on Sage Marketplace and Sage CRM – Sage Intacct integration listed on Sage Intacct Marketplace. The GUMU™ Cloud framework by Greytrix forms the backbone of cloud integrations that are managed in real-time for the processing and execution of application programs at the click of a button.
For more information on our integration solutions, please contact us at sage@greytrix.com. We will be glad to assist you.