A Sage CRM entity represents a real-world entity such as a Company, Person or Sales Opportunity. These entities help to store in the information useful in managing the Customer Relationship. Sage CRM structure is designed in such a way that these entities have in-built relationship with other entities that in turn helps with the linked information be it in terms of Business Marketing, Business Sales or the Customer Service.
New Stuff: Attach Multiple Documents in Sage CRM against any entity
Sage CRM has taken care of all the aspects necessary from Customer Relationship management point of view by providing in-built or say standard entities such as Phone, Email, Documents, etc. that helps in accommodating all the necessary information in a single system; thereby avoiding the need to switch or maintain data within multiple systems.
However, Sage CRM is not just limited to the standard entities provided. One of the best feature or capability of CRM is that it supports creation of Custom entities as well as link them with other standard entities to design a new data structure. Advanced Customization Wizard of Sage CRM is one such component that helps to easily create custom entities in your CRM system. To do that, you need to download, install, and use the Advanced Customization Wizard. The Wizard is distributed as an optional Sage CRM component. It helps you to configure the various parameters of your custom entity.
Though this component has been available since all the previous versions of Sage CRM, the new version is compatible with Sage CRM versions 2021 R1, 2020 R2, and 2020 R1 and has overcome some slight drawbacks of earlier version. The Wizard has been updated for Sage CRM 2021 R1. You can find the new version here:
Once you download the component, place it in the INF folder of the CRM path –
C:\Program Files (x86) \Sage\CRM\<CRM Instance Name>\inf
Login to CRM and proceed towards component installation by following below steps –
Login to CRM with System Admin account.
Navigate to Administration -> Customization -> Component Manager
Select the Component Name and Click on Install
Below screen will be populated –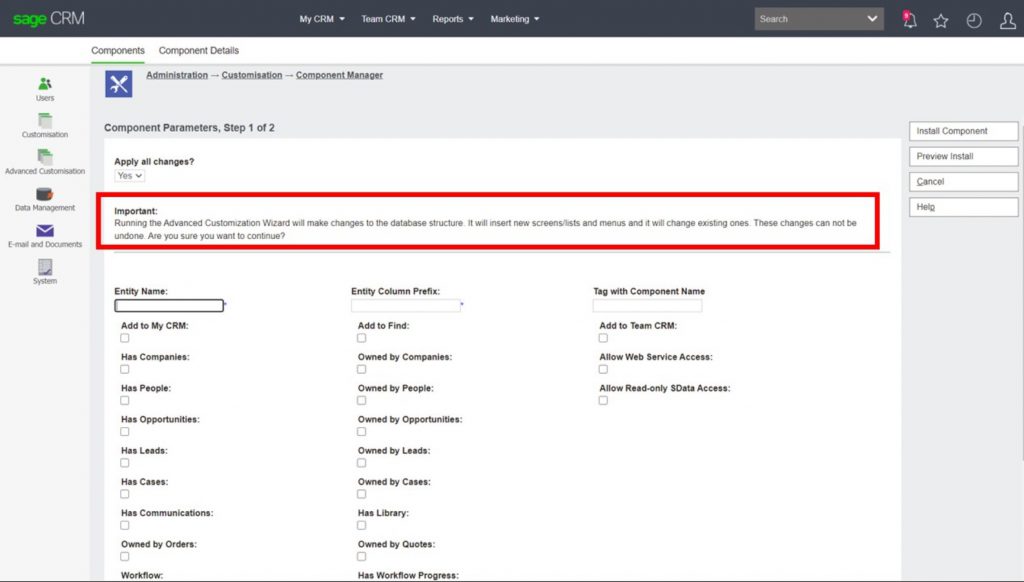 Once the component is installed, a new entity is created using the Wizard. As per the latest version updates, the default icon of the entity is refreshed to match better with the existing icons used within the product as per the existing style guide.
Also, a full set of options is provided for use in Customization Menu as well as other accessible lists. As highlighted in screenshot, we have created a new entity named 'Project'; the options to access this new entity are shown below.
One more change has been made to the default layout of Top content screen. Now the top content area for wizard created entities follows the same layout as the standard Sage CRM entity; wherein the Entity Name, Company (linked to it), Person (linked to it) fields are all located on new line as shown in below screenshot –

The Wizard is a fantastic tool that will make changes to the database structure including the New Screens, Lists, Menus and the changes will be permanent in the system. Hence, it is always recommended to run the wizard with a careful thought as it may impact the Data structure of other customizations.
About Us
Greytrix – a globally recognized and one of the oldest Sage Development Partners is a one-stop solution provider for Sage ERP and Sage CRM organizational needs. Being acknowledged and rewarded for multi-man years of experience and expertise, we bring complete end-to-end assistance for your technical consultations, product customizations, data migration, system integrations, third-party add-on development, and implementation competence.
Greytrix has some unique integration solutions developed for Sage CRM with Sage ERPs namely Sage X3, Sage Intacct, Sage 100, Sage 500, and Sage 300. We also offer best-in-class Sage ERP and Sage CRM customization and development services to Business Partners, End Users, and Sage PSG worldwide. Greytrix helps in the migration of Sage CRM from Salesforce | ACT! | SalesLogix | Goldmine | Sugar CRM | Maximizer. Our Sage CRM Product Suite includes addons like Greytrix Business Manager, Sage CRM Project Manager, Sage CRM Resource Planner, Sage CRM Contract Manager, Sage CRM Event Manager, Sage CRM Budget Planner, Gmail Integration, Sage CRM Mobile Service Signature, Sage CRM CTI Framework.
Greytrix is a recognized Sage Champion Partner for GUMU™ Sage X3 – Sage CRM integration listed on Sage Marketplace and Sage CRM – Sage Intacct integration listed on Sage Intacct Marketplace. The GUMU™ Cloud framework by Greytrix forms the backbone of cloud integrations that are managed in real-time for the processing and execution of application programs at the click of a button.
For more information on our integration solutions, please contact us at sage@greytrix.com. We will be glad to assist you.