For every Business sector, apart from managing and maintaining Customer demographics and other service information; Library management also plays a vital role. Sage CRM's inbuilt Library management feature has helped the organization to maintain the documents related to any of the entities such as Customer, Opportunity, Cases etc. The ability of storing Documents from and within the application has made the documentation work quite easy and flexible for the organizations reliable on Sage CRM. The documents tab of Sage CRM works as an interface to all the documents and templates stored in Sage CRM Library.
New Stuff: Sage CRM 2021 R1: Inline customization of Lists and Grids
With the growing years of technology, Sage CRM has evolved many of its features rapidly. Some of the enhancements related to Library management are listed below –
Defining Library management/ Documents entity as Primary entity.
Enabling Security rights for Documents entity just like other Primary entities.
Restricting Documents in Shared Documents tab.
Defining the Security Territory for the uploaded documents.
Attaching Multiple Documents at single go.
We have explained about the above listed enhancements in our previous blogs. In this article, we will talk about the topic 'Attaching Multiple Documents at single go'. Sage CRM has provided an easy interface to upload documents through two ways –
Using the Add File button: If you click on this button, the Document upload screen will open, where you will select the file to be uploaded. Once the file is uploaded, it will redirect you to write more information about Document being uploaded. For e.g. Document Description, Type etc.
Document Drop Functionality: Here you have to select the file and Drag and Drop it to the "Drop files here to attach them" button. Once the file is uploaded, it will redirect you to write more information about Document being uploaded.
In previous versions of CRM, Users could attach only a single document at a time. It used to become bit time consuming at times when user had to upload multiple documents in order to progress further. Thus, here CRM users had to select the document, add the relevant information regarding the document, set the type of document then save and proceed towards next document upload.
As we all know, progress of any entity's record is tracked with the help of workflow's in CRM. Thus, if there would been any condition/business requirement wherein the entity record could be progressed further only after a certain set of documents are made available against the record; users were able to upload only a single document through workflow's progress screen and for rest of the documents they had to navigate to the documents tab first, upload the documents and then progress the rule.
In order to overcome this, we had explained the provision of attaching multiple documents from and within the Communication record. Below is the blog link for your reference –
Attached Multiple Documents in the Communication
But in the latest versions of Sage CRM, users have the inbuilt provision to upload multiple documents against any of the entity's record using Add File button as shown below –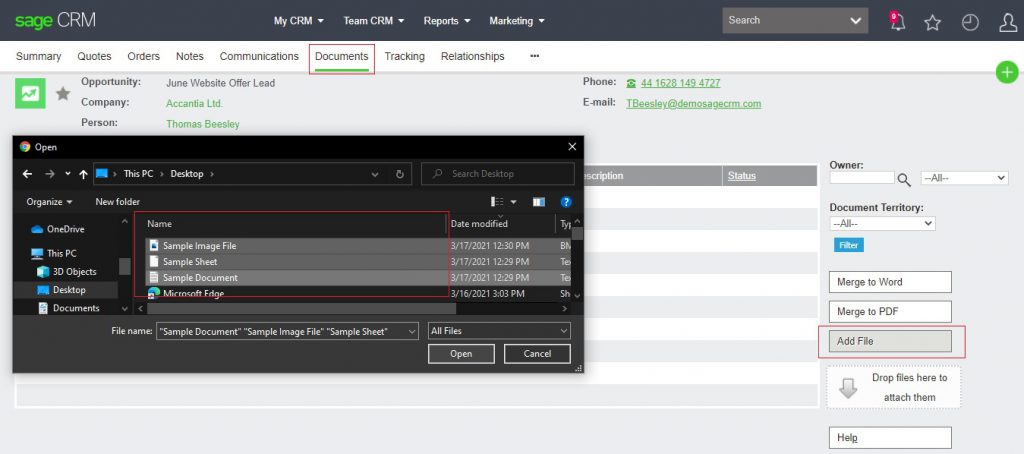 Similarly, you can also drag and drop multiple files at a single attempt as shown below –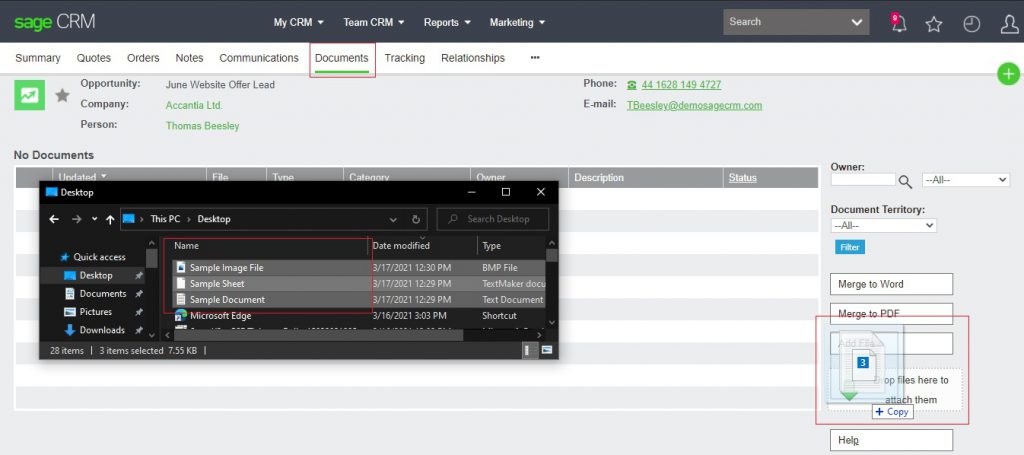 In this way, Sage CRM's Library Management or say Attach Documents functionality helps in attaching multiple files in a single go for both Primary as well as Secondary entities. You can enable and utilize Documents functionality for Custom entities as well that will help of manage and maintain the documentation work with an ease.
About Us
Greytrix – a globally recognized and one of the oldest Sage Development Partners is a one-stop solution provider for Sage ERP and Sage CRM organizational needs. Being acknowledged and rewarded for multi-man years of experience and expertise, we bring complete end-to-end assistance for your technical consultations, product customizations, data migration, system integrations, third-party add-on development, and implementation competence.
Greytrix has some unique integration solutions developed for Sage CRM with Sage ERPs namely Sage X3, Sage Intacct, Sage 100, Sage 500, and Sage 300. We also offer best-in-class Sage ERP and Sage CRM customization and development services to Business Partners, End Users, and Sage PSG worldwide. Greytrix helps in the migration of Sage CRM from Salesforce | ACT! | SalesLogix | Goldmine | Sugar CRM | Maximizer. Our Sage CRM Product Suite includes addons like Greytrix Business Manager, Sage CRM Project Manager, Sage CRM Resource Planner, Sage CRM Contract Manager, Sage CRM Event Manager, Sage CRM Budget Planner, Gmail Integration, Sage CRM Mobile Service Signature, Sage CRM CTI Framework.
Greytrix is a recognized Sage Champion Partner for GUMU™ Sage X3 – Sage CRM integration listed on Sage Marketplace and Sage CRM – Sage Intacct integration listed on Sage Intacct Marketplace. The GUMU™ Cloud framework by Greytrix forms the backbone of cloud integrations that are managed in real-time for the processing and execution of application programs at the click of a button.
For more information on our integration solutions, please contact us at sage@greytrix.com. We will be glad to assist you.