The GUMU™ for Sage Intacct – Avalara integration is a robust tax compliance solution that helps calculate rates, prepare returns and manage exemption certificates. It verifies addresses and the subsequent tax imposed accurately.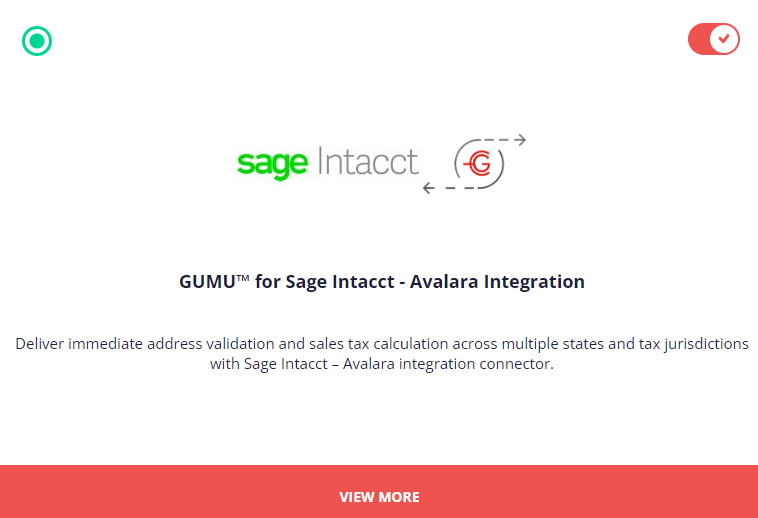 It is a seamless combination of a cloud accounting solution and a tax enforcement solution that brings together sales, and tax calculation, and helps you keep up with the changing modules of law, rates, and rules. The Sage Intacct Sales Tax Automation solution is your tax compliance partner that lets you focus on core business aspects while it delivers an end-to-end service in preparing and filing returns and handling remittances.
AvaTax for Sage Intacct keeps minute track of tax regulations and enables users to add a single tax profile to each customer irrespective of the mode of purchase and payment.
TAX CALCULATION
The integration will be established which will sync sales transactions from Sage Intacct to Avalara. Tax will be calculated in Avalara; summarized tax will be updated back into Sage Intacct.
Native integration works on a post of sales transactions in Sage Intacct. After-tax calculation; tax amounts and rates are updated at line level. Upon posting of sales invoice in Sage Intacct; integration will sync sales transaction with Avalara.
Avalara will calculate tax and will be returned the calculated tax amounts. This amount will be updated back into Sage Intacct.
Avalara doesn't support inline locations; it maps a company/entity as a company in Avalara. To resolve this; integration will post one or multiple transactions in Avalara by Locations/Company codes.
Assuming the sale invoice mentions 3 different inline locations; each line item will be posted under the appropriate company in Avalara. In Avalara; transaction Document no. will be the same as Sage Intacct Invoice/Document no. There will be 3 transactions posted in Sage Intacct under separate companies.
Appropriate tax will be added depending on whether a customer is generated through Point of sale, E-commerce, or direct sale. In the case of a multi-entity in Sage Intacct, they are handled as different companies for multi-entity taxation. The GUMUTM for Sage Intacct-Avalara is your business's perfect tax compliance partner!
Integration Touch-points
Sales Invoice
All sales invoices created in Sage Intacct will be integrated into Avalara. Then, Avalara will calculate the respective sales invoice's tax based on its subtotal. This tax amount will be updated on Sales Invoice as a charge or tax.

The updated transaction amount will also be reflected in AR Invoice. It will show the calculated tax amount corresponding to the mapped GL account (charge type).

Credit Memo
Tax/charge will be calculated and added to Credit Memos, initially created in Sage Intacct. Once, tax is added to the subtotal in Avalara, the total amount of the Credit Memo is updated in Sage Intacct.

Benefits/Features
Fast-paced system:
The Sage Intacct Sales tax automation integration delivers accurate sales and usage tax calculations after cross-checking all the rates and rules in a flash. This tax compliance solution is just the right partner, for businesses that are constantly on the go.
Easy remittance and filing:
Experience the ease of an automated tax solution with the GUMUTM Sage Intacct – Avalara Integration. It enables easy tracking of any changes in laws, preparing and filing returns, and remittance calculation.
Central Data repository:
It is a central and secured data hub consisting of all tax compliance documents enabling easy access to documents whenever in need. The Sage Intacct Integration with Avalara also ensures core compliance with all state and federal regulations leading to quick and efficient workflows.
Automated Scheduler Data Synchronization:
Automated schedules are run to integrate the Sage Intacct and Avalara connector modules such as Sales Invoice and Credit Memo through the in-built scheduler program. Each data synchronization task is handled as a process/job. As a result, we can schedule these processes to run at specified intervals.
This blog gives you a brief understanding of how using Avalara Integration, tax calculations can be managed in Sage Intacct.
About Us
Greytrix – a globally recognized and one of the oldest Sage Development Partner is a one-stop solution provider for Sage ERP and Sage CRM organizational needs. Being acknowledged and rewarded for multi-man years of experience and expertise, we bring complete end-to-end assistance for your technical consultations, product customizations, data migration, system integrations, third party add-on development and implementation competence.
Greytrix has a wide product range for Sage Intacct- a Cloud ERP. This includes migrations from QuickBooks | Sage 50 | Sage 100 | Sage 300 to Sage Intacct. Our unique GUMU™ integrations include Sage Intacct for Sage CRM | Salesforce | FTP/SFTP | Rev.io | Checkbook | Dynamics 365 CRM | Magento | Rent Manager | Treez | Avalara Avatax | Blackline SFTP. We also offer best-in-class Sage Intacct Development Services, Consulting services, integrated apps like POS | WMS | Payroll | Shipping System | Business Intelligence | eCommerce for Sage Intacct to Sage business partners, resellers, and Sage PSG worldwide. Greytrix constantly develops apps, products, and add-ons to enhance user experience. Sage Intacct add-ons include AR Lockbox File Processing. Greytrix GUMU™ integration for Sage CRM – Sage Intacct, Sales Commission App for Sage Intacct, and Checkbook.io ACH/Digital Check Payments for Sage powered by GUMU™ are listed on Sage Intacct Marketplace.
The GUMU™ Cloud framework by Greytrix forms the backbone of cloud integrations that are managed in real-time for the processing and execution of application programs at the click of a button.
For more information on Sage Business Cloud Services, please contact us at sagecloud@greytrix.com. We will like to hear from you.