Creating email templates in Salesforce is an easy way to send an email notification that can save you a huge amount of time. Salesforce provides various types of email template –
Real-time, bi-directional, multi-company – Sage ERP Integration with Salesforce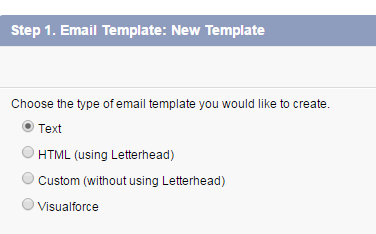 The Advantages and Disadvantages of each email Template are as follows :-
Text
Pros – a) Requires no html knowledge. b) No issue with email filters.
Cons – a) No visual elements. b) No tracking for mass mail.
HTML with Letterhead
Pros – a) Tracking. b) Quickly add targeted messaging.
Cons – a) Requires edit html permission. b) Limited Customization.
Custom HTML
Pros – a) Tracking. b) Fully customizable, you can get exactly what you want.
Cons – a) May get caught in email filters. b) Requires html knowledge.
Visualforce
Pros – a) Makes it possible to merge fields from multiple records or objects.
Cons – a) Not available for mass emailing. b) Requires force.com pages.
While working on a project, we were facing an issue. The email alert was not being delivered to assigned users with a workflow rule. We made a workflow rule such that if a user sets the value of Account Number to blank and if the Industry and Employees fields are not blank then it was supposed to send an email notification to those users.
This is our Workflow Rule:
This is our Email Template: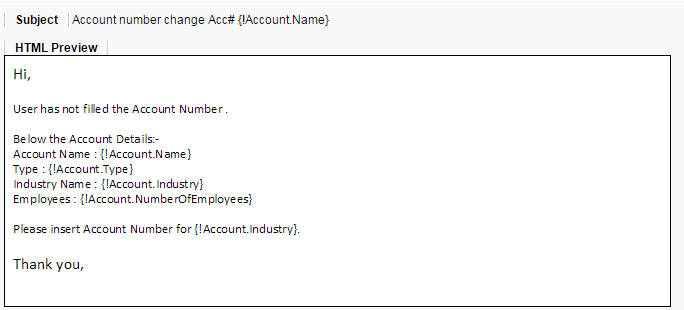 Deliverability Setting:
Newly created sandboxes have the default email deliverability setting set to System email only. To configure email deliverability settings in the sandbox organization, click Your Name | Setup | Email Administration | Deliverability. If editable, set the Access level in the Access to Send Email section. You may not be able to edit the Access level if salesforce.com has restricted your organization's ability to change this setting.
No access : This prevents all outbound email to and from users.
System email only: Allows only automatically generated emails, such as new user and password reset emails.
All email: Allows all types of outbound email. Default for new, non-sandbox organizations.
Once we set the deliverability to All email, we were able to send email to assigned users as shown below –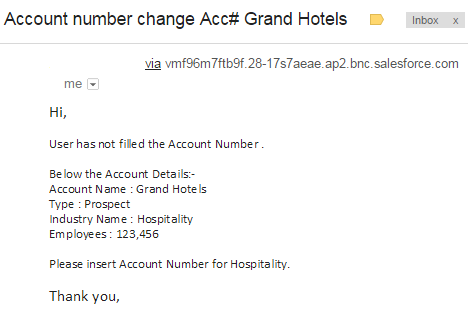 About Us
Greytrix as a Salesforce Product development partner offers a wide variety of integration products and services to the end users as well as to the Partners across the globe. We offers Consultation, Configuration, Training and support services in out-of-the-box functionality as well as customizations to incorporate custom business rules and functionalities that requires apex code incorporation into the Salesforce platform.
Greytrix has some unique solutions for Cloud CRM such as Salesforce integration with Sage Enterprise Management (Sage X3), Sage Intacct, Sage 100 and Sage 300 (Sage Accpac). We also offer best-in-class Cloud CRM Salesforce customization and development services along with services such as Salesforce Data Migration, Integrated App development, Custom App development and Technical Support to business partners and end users.
Greytrix GUMU™ integration for Sage ERP – Salesforce is a 5-star app listed on Salesforce AppExchange.
For more information, please contact us at salesforce@greytrix.com. We will be glad to assist you.
Related Posts