In our previous blogs, (Salesperson mapping functionality in GUMU™ with Sage 100 ERP) we discussed about how a user can assign salesperson and how we can change the owner of the account.
In this blog (which is part 3 of the series) we will be explaining how changing the "Record Owner" value in Salesforce with an Owner that's not mapped affect the update to "Salesperson" value in Sage 100 ERP Customer record.
Please make sure that you have pre-mapped a few Salesforce user to the Sage ERP Salesperson.

Repeat the same steps for changing the "Account Owner" as stated in our previous blog.
Now suppose that user selects the a "Record Owner" which is not mapped with any Sage ERP Salesperson. The record will get saved, but what will be the impact on the record in Sage (100) ERP. For that let's get into the Sage system.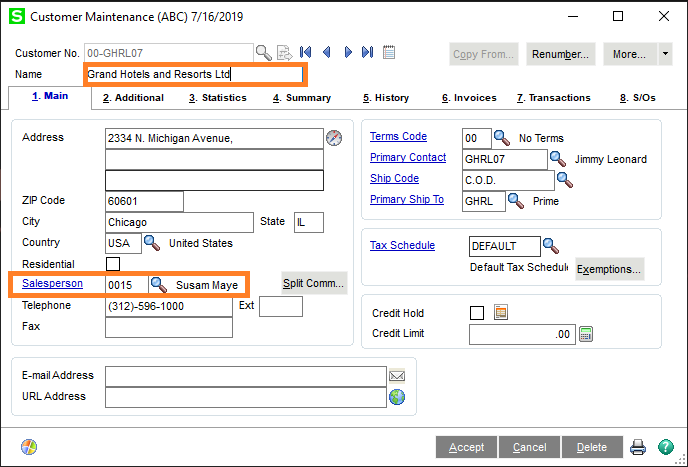 As seen there is no changes to the Salesperson field on Customer record in Sage 100 ERP since the Account Owner we selected was not mapped with any Salesperson, so in that case GUMU doesn't updates the Salesperson field value. Since to maintain a Customer in Sage 100 ERP Salesperson number is a required value.
Now since we have changed the account owner in Salesforce and it doesn't effect the Salesperson in Sage 100 but it does show an error (informational) message in Salesforce through which we get a clear idea why was the Salesperson value was not being changed in Sage 100 ERP.

Last Sync Message:-
This field helps users in viewing the information of the real time update regarding the status of a particular Account in Salesforce.
For e.g.: In the above image there is no salesperson being mapped to the corresponding account owner therefore the last sync message throws an error that Salesperson number is required. This message is passed on from Sage ERP to Salesforce which let users know about the real time update of particular account.
About Us
Greytrix – a globally recognized and one of the oldest Sage Gold Development Partner, as a Salesforce Product development partner offers a wide variety of integration products and services to the end users as well as to the Partners and Sage PSG across the globe. We offer Consultation, Configuration, Training and support services in out-of-the-box functionality as well as customizations to incorporate custom business rules and functionalities that require apex code incorporation into the Salesforce platform.
Greytrix has some unique solutions for Cloud CRM such as Salesforce Sage integration for Sage X3, Sage 100 and Sage 300. We also offer best-in-class Cloud CRM Salesforce customization and development services along with services such as Salesforce Data Migration, Integrated App development, Custom App development and Technical Support to business partners and end users. Salesforce Cloud CRM integration offered by Greytrix works with Lightning web components and supports standard opportunity workflow.
Greytrix GUMU™ integration for Sage ERP – Salesforce is a 5-star rated app listed on Salesforce AppExchange.
For more information, please contact us at salesforce@greytrix.com. We will be glad to assist you.
Related Posts