Using I/C Location Details in Sage Accpac we are able to view list of locations in which a particular Item is stocked and other details (like Quantity on Hand, On SO, On PO, Standard Cost, Most Recent Cost, Average Cost etc…) of that item for each locations in Grid List.
Vice-a-versa what if someone wants to view the list of Items in a particular location with its other details as mentioned above. We had this unique requirement in one of our projects where we have designed the screen similar to I/C Location Details the only difference is instead of selecting Item, one has to select the location and all the items stocked in this location would be listed in the Grid as shown in below screen shot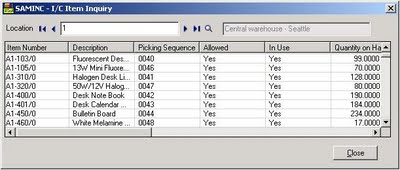 For any queries or more information, please drop us an email at sage@greytrix.com.