Greytrix has under its brand "GUMU" developed migration utilities which assist in migration of data to Sage ERP and Sage CRM solutions. Today, we will discuss about our Sage Certified migration solution for Sage (Accpac) 300 ERP.
Currently we migrate at FIXED COST :-
* Complete History To Sage (Accpac) 300 ERP from QuickBooks, Peachtree, Simply Accounting, Great Plains and Sage Pro ERP
* Open and Masters To Sage (Accpac) 300  from Sage (MAS 90/200) 100 ERP, MYOB and Sage BusinessWorks
As a part of our migration process we ask users to fill in a mapping sheet excel with details of how they would like their current accounting system accounts to be mapped to Sage (Accpac) 300 ERP. Sometimes, it happens that the client later realizes that one of the data of customer code was wrongly provided by him for e.g. As per mapping sheet we had assigned  code  '1200' to customer 'Mr Ronald Black' which was supposed to be as '1201'. Now we cannot delete the Customer and create it again in accpac since there are transactions migrated against it.
To overcome such issues, Sage 300 has introduced a utility named 'Customer Number Change' under AR module. It Changes the Customer Numbers quickly and all information, including Customer balances, history and transactions will be associated with the new Number in all modules of accpac i.e. Accounts Receivable, Inventory Control, Order Entry, Purchase Orders, Project and Job Costing, Tax Services, and Bank Services wherever it has been used.
For Activating the 'Customer Number Change' utility login to Accpac and go to Administrative services -> Data Activation. You will notice a utility with this name in the list of applications available. After activation you will find this application under AR module.
Through this utility we can Change, Combine or Copy the customer number.
As a solution for above case we would discuss 'Change' option. You need to follow the below steps:
1. Go to Accounts Receivable >> Customer Number Change>> Customer Number Change
2. Click on new button; a new Action window will appear with options change, combine and copy. Choose the radio button 'Change' under Action box, if that is not selected by default.
3. Then select the customer number under change box. You need to first input the customer number which is existing in Sage 300. You can either:
a. Type the existing Customer Number in the Customer Number field;
b. or Use the Up and Down Arrow keys to activate and browse through the Customer Numbers list or choose the List Button then select the Customer Number.
4. Once the Customer Number has been chosen, the corresponding Short name and Customer Name are displayed in the appropriate fields. Next
a) In 'To' box, enter the new Customer Number. But make sure that, new customer code should exist in Sage 300.
b) Also in 'To' box, change the displayed Short Name and Customer Name fields if required.
5. Choose OK button to add this entry to the Change List. Choose Cancel to discard the current change entry or click on Post Button.
6. Once you click on Post, it will start changing code of Customer into AR module as well as all other modules of accpac wherever this customer has been used.
This way we can correct the customer codes using Customer Number Change Utility without doing any harm to customers Transactions and master information.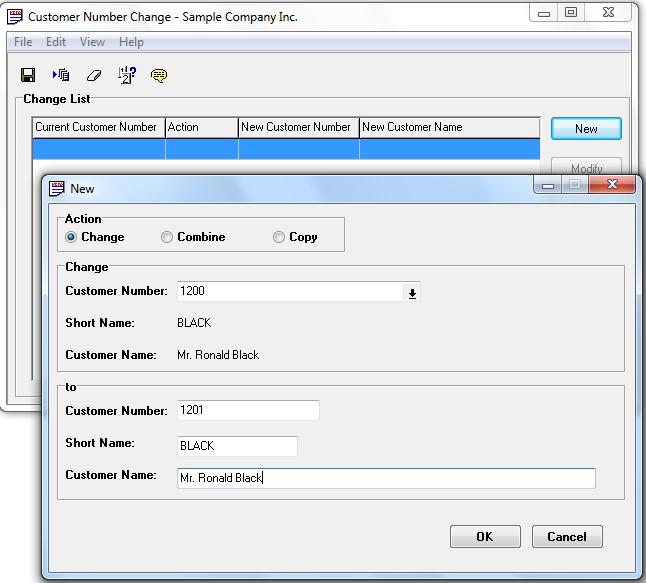 In our next blog we will discuss about how customer numbers can be merged in Sage (Accpac) 300 ERP.