In this blog, we would be discussing about a unique feature of Sage 300 ERP (earlier known as Sage Accpac ERP), which allow its user to create more than one Invoice entry from a single receipt without adding any additional cost.
Sometimes it may happen that, user receives multiple invoices for a single receipt entry. In such cases, Sage 300 ERP provide an option for creating multiple invoices against a single receipt by selecting Fully Invoiced Option to NO in PO Invoice Detail Line.
In Invoice Entry screen, when receipt number is entered, yes appear by default for Fully Invoiced field. But, when working with a serialized or lotted item this option cannot be changed to No and they will be marked as Fully Invoiced even if Quantity Invoiced field is changed to less than Quantity Received.
Thus, user needs to follow below mentioned steps for creating multiple invoices from a single receipt;
1. Navigate to Sage (Accpac) 300 ERP>>Purchase Orders >> P/O Transactions>> Invoice Entry
2. Put initial Information like Invoice No., select Receipt No. and press Tab.
3. Now the UI will show item details for the selected receipt.
4. By default Fully Invoiced column in detail grid is set to YES.  In order to create more than one Invoice entry you need to set the Fully Invoiced column value to NO as shown in below screen.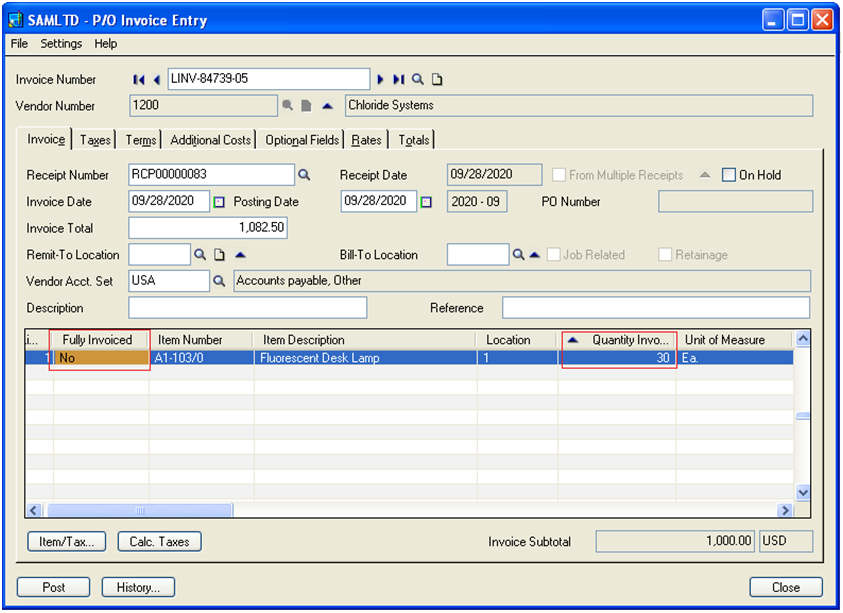 5. Then enter the required quantity for which you want to create invoice entry and post the same.
6. Once Invoice is posted, refresh the Invoice entry UI for another new invoice and select the existing receipt no. (For which we have already created the Invoice entry).
7. Go on setting the Fully Invoiced Option to NO, unless it is last invoice to be punched and all the quantities on the receipt are consumed.
NOTE: This feature will not work for Lotted or Serial Item.