An eCommerce website works both ways. It can attract new customers and increase sales, at the same time, giving rise to a new set of costs and operational challenges. The online eCommerce business is surging while complimenting the traditional brick and mortar stores. This growth in the online storefront has necessitated enterprises to integrate their web store with business management systems like Sage 300 that take care of accounting, orders, inventories, sales etc.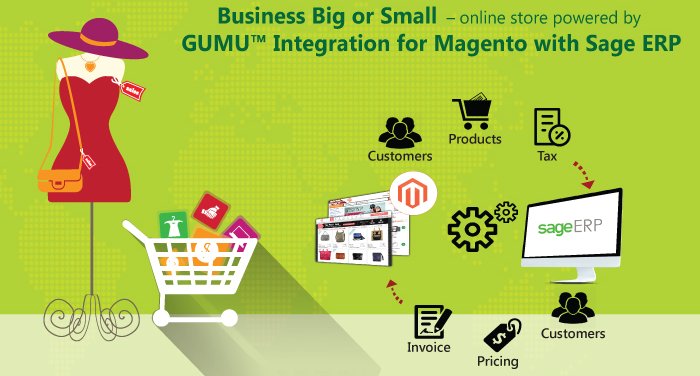 Tap the potential of an integrated Sage ERP- X3 and Magento eCommerce Solution. It is designed to assist businesses to manage and seamlessly integrate their eCommerce website and marketplace with back office ERP systems. This highly effective business system provides a link between online stores/ eCommerce portals and backend ERP systems performing bi-directional data synchronization in a fully automatic manner.
Businesses are tapping the potential of ecommerce industry due to growing internet audiences. Running a successful ecommerce business is rewarding, yet equally challenging. However, with Greytrix Integrated Sage ERP- Sage 300 and Magento eCommerce Solution you can have 360° customer interaction and interfaces for seamless operations of front office, back office and portal activities. Thereby reducing time, saving costs and increasing accuracy while linking your online store/ ecommerce portals with the backend ERP systems.
At Greytrix, we make sure that you reap maximum benefits from our innovative solution – GUMU™ Integration for Magento with Sage 300 that will offer bi-directional data integration of your web store with Sage 300 for entities like products/customers/orders and payment information. This will result in data accuracy throughout the entities thereby eliminating human intervention, ultimately cutting down costs. Whenever new orders are placed in the online store, they will be automatically updated in the Sage 300 system that gives an exact level of inventories.
Your Business "Always-Available" using GUMU™ Integration for Magento with Sage 300
https://youtu.be/G8h2RShcaNY