Today, organizations are increasingly becoming more and more system-oriented and utilize cutting-edge enterprise solutions to make critical business processes user-friendly and seamless. As we are living in a competitive world, it is equally important for businesses to have well-integrated enterprise management solutions. CRM and ERP solutions are widely used enterprise technology tools to manage and improve key business operations globally.

New Stuff : Web API to know On-Hand Quantity of Any Item in Sage 300
CRM stands for Customer Relationship Management, which helps to track and manage data pertaining to customers, leads, prospects and opportunities. It helps businesses to understand customer behavior and purchase patterns. Most importantly, CRM solution helps maintain the customer lifecycle for businesses. For example, when you enter the details of a new customer in your CRM system by creating new customer and when that customer places an order, the system creates order entry.
ERP software or Enterprise Resource Planning system as we know is used to manage diverse business operations such as inventory management, production planning, manufacturing, accounting, etc.
Businesses in today's competitive era in an attempt to stay agile are integrating CRM software with ERP solution. For instance, order created in your CRM solution automatically reflects in your ERP system to make sure that everyone stays on the same page leaving no room for data entry errors.
Please refer the below screenshot: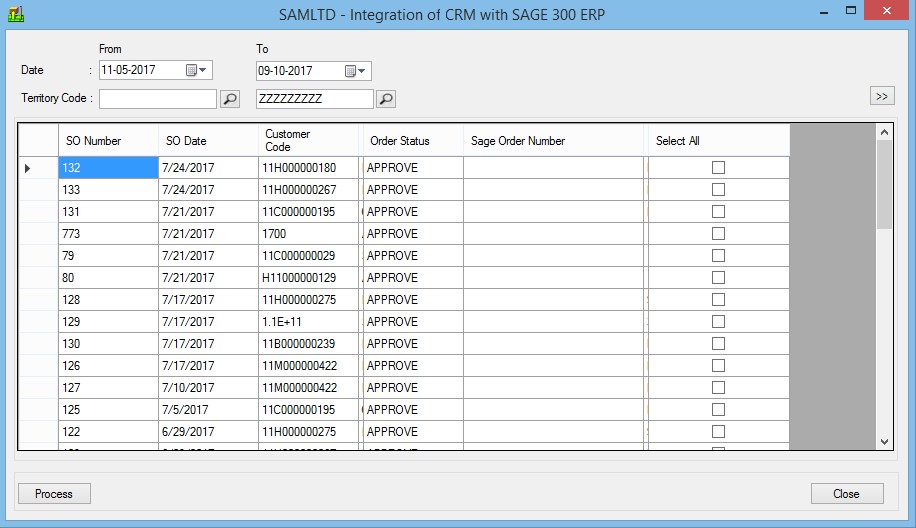 In screenshot above, when we click on 'Go' button, the orders from CRM filled into the Grid depends on filter criteria. Further, the "Sage Order Number" column is to add the Sage Order Number against the CRM Orders. When you click on "Process", then only the selected orders get created in ERP 'Order Entry' category. We have applied few validations on the screen to limit the duplication of CRM orders in ERP.
For integration between CRM and ERP orders, it is necessary that they should have some similarity or the logic to get the Item Number, Location, Quantity, Unit Price, Customer Number etc., which are necessary to create order entry into Sage 300
CRM to ERP integration is very important when you deal with multiple vendors, since it helps save time and manual cumbersome work of creating orders in ERP and the same in CRM software.