Manufacturing Order is used to request for a new item or product to be assembled or processed in Production Area. Included here also is information on its components and operation along with Child MO, subcontractor, Purchase order, SO Details and Co-product.
The Manufacturing Order transaction window allows system user to create, edit and closeout manufacturing orders. The BOM maintenance merely determines the standard on how to produce a certain product. It is during the MO entry transaction wherein the BOM previously maintained are put into use to produce a specific quantity of a product in a specific production area to meet a specific deadline.
New stuff:- Update Order UOM as the pricing UOM on Order Entry screen
As you can see there are some drawback in MO Entry in Module. Suppose a user created an MO Entry with the respective BOM Item and if another user logged in and deleted the specific component item of the MO Entry by delete button regardless he's having the user rights or not then the component material item get deleted and it becomes very difficult for the user. To avoid these type of issues we have done customization on MO Screen detail level which we have explained further.
Navigate the M/F Order Entry Screen: Manufacturing –>M/F Transaction–> Manufacturing Order. (Please refer below screen for MO Entry)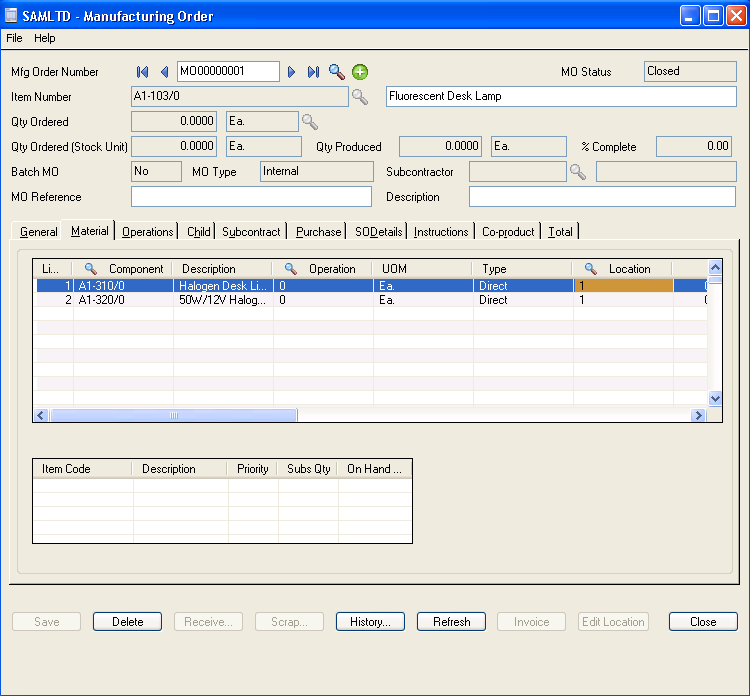 As per the above screenshot as you can see there are two items in Material Tab grid and as per the standard functionality, the user can easily delete material (component item) by pressing "Delete" key (without any prompt message).
The main customization is to restrict user so that the detail level item should not get delete from M/O entry & the user should not able to delete the item manually. The advantage of this customization is to validate it from other user so that the different user cannot delete the item.
About Us
Greytrix is a one stop solution provider for Sage ERP and Sage CRM needs. We provide complete end-to-end assistance for your technical consultations, product customizations, data migration, system integrations, third party add-on development and implementation expertise.
Greytrix has unique solutions of Sage 300 integration with Sage CRM, Salesforce.com and Magento eCommerce. We have the migration expertise of Sage 300 Migration from Sage 50 US, Sage 50 CA, Sage PRO, QuickBooks, Sage Business Vision and Sage Business Works. We work on the latest Sage 300c technologies and offer best-in-class Sage 300 | Sage 300c customization and development services.  This include upgrading old codes, creating new web screens, delivering new reporting tools like Sage Intelligence, PowerBI and SAP BO to Sage business partners, end users and Sage PSG worldwide.
For more details on Sage 300 | Sage 300c Services, please contact us at [email protected]. We will be glad to assist you.