Duplicate entries in customer masters are the pain for ever CRM system, but nowadays CRM systems are capable of handling that pain to some extent.  On this blog I have already discussed how the dedupe behavior works on Sage CRM. Now I will explain how to configure the same in ACT CRM
 Related Post: Change the standard dedupe behavior
 A customer data is a key part of CRM functionality and a customer record must be saved with single reference only in order to make sure our marketing events, campaigns are not annoying them through multiple emails. Also when customers are duplicated, Sales opportunities-Leads remain scattered and we don't get proper sales forecasting for customer.
From the screenshot below, you can see that there are two companies with the same name this may lead to ambiguities.

To avoid this,
1. Go to Tools | Preferences
2. Select Admin Tab
3. Click on Duplicate Checking button
This will open a pop up screen as shown in screenshot below where in you can select record type on which dedupe behavior is to be enabled. You can select other fields to be checked. Note that Enable duplicate checking in the database checkbox must be checked to enable duplicate checking.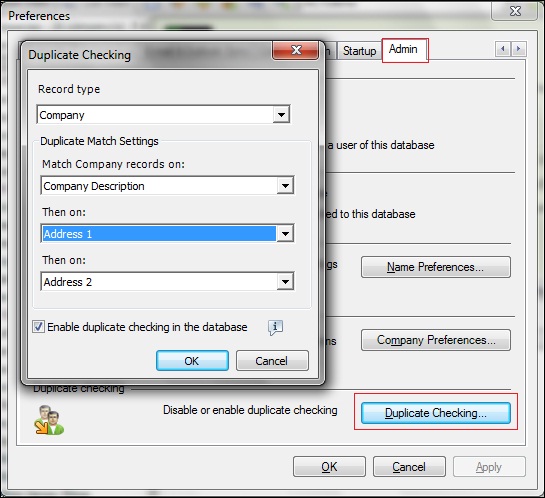 Once you have made this configurations, whenever user enters a company record which already exists, system will give alert saying you are creating duplicate record. If users says yes he can enter new data. If he clicks No action is cancelled.
Also Read:
1) How to identify and backup correct Sage CRM Database
2) Disable Date Time Picker in Sage CRM v7.2
3) How Library documents are stored
4) New way of Client side field customizations
5) Migrate Communications from Salesforce to Sage CRM