Sage CRM user can attach and view documents from documents tab as shown below.



Documents tab is available in for Company, Person, Cases, Opportunities and Communications entities. In terms of Self-services, Self-service site is designed to have Customer cases. Recently one of our customers came up with a requirement to allow Self-service user to view and download documents attached to him in Sage CRM.
Related Post: Export to Excel and Export to PDF functionality on Sage CRM Self Service lists
Earlier we have designed similar component that allows Self-service users to view and download the documents against Communication and Cases entity in Sage CRM Self-service site.
Read our other Self-service offerings at the end of this post.
To meet requirement, we have designed a similar Documents tab as that of Sage CRM which will list all documents that are available for that particular customer in Sage CRM.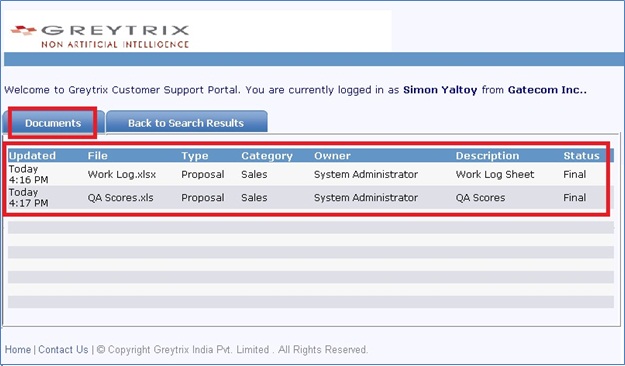 If you have a close look you will understand that there is a hyperlink on the data which is in the File column.
Clicking on hyperlink will open a dialog box to either Open/Save file on the user's local machine.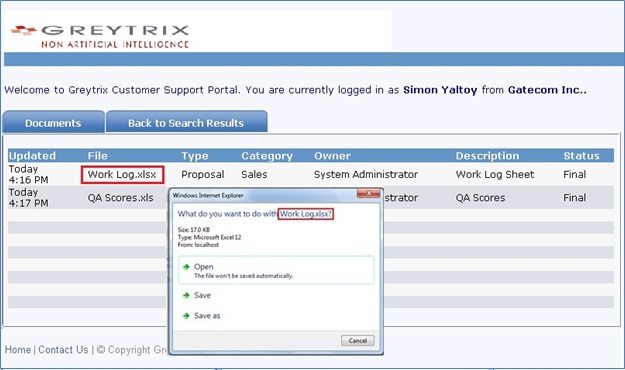 Also no need to mention that, this functionality is Cross browser compatible.
We are sure you all will be pretty much excited to have the same feature available in your Sage CRM Self-service site. If you find this content useful, please drop us an email at crm@greytrix.com
Our Other Self-service offerings:
1) Communication Attachments in Self Service
2) Standard blocks with predefined width in CRM and Self-service
3) Self Service List Design
4) Password Security for Sage CRM Self Service Portal
5) Want to increase Self-Service Password field size?
6) Change the default page that appears after successful login to Self Service Support Site