In today's business world Contract management has become a core process of any organization. Contract management helps in managing contracts made with customers, vendors, partners, or employees.
New Stuff: Modify User Preferences from Info Manager User's Login
Greytrix has launched a new product – Sage CRM Contract Manager which enable Users to optimize the lifetime value of business relationships by centralizing, standardizing and systemizing the entire contract lifecycle, from creation through expiration or renewal of Contracts.
Our product enables Users to enter new contract details against a customer in Sage CRM. Few of the fields defined under contract are
Contract Type gives the option to choose a certain type of contracts on the basis of its templates that are made available.
Contract Duration states the duration of the contract.
Start Date and End Date defines the start and end date of any contract.
Contract Status defines the status of the contract.

Users will also have the ability to define Contract Clauses. Clauses can be created as a separate entry in Sage CRM and can be linked to contract from clauses tab at contract context. These clauses can be used a specific aspect related to the overall subject matter of the agreement and define duties and rights that fall under contract terms.clauses tab at contract context. These clauses can be used a specific aspect related to the overall subject matter of the agreement and define duties and rights that fall under contract terms.

Our Contract Manager comes with its own workflow, which will help Users manage the lifecycles of contracts. When a contract has been created, it will move through various stages defined in its workflow until it is finally approved. These stages are contained in the workflow and are customisable as per business requirement.
The Workflow rules are follows:
Clauses are added to the contract and various changes are made. Once all changes have been made, then the user chooses "Editing Complete" and this will move the contract to the next stage of the workflow – "Draft 1 Manager Review"
An automatic email is sent to the approving manager informing him/her of a contract waiting for their approval. A link is provided in the mail to facilitate speedier access.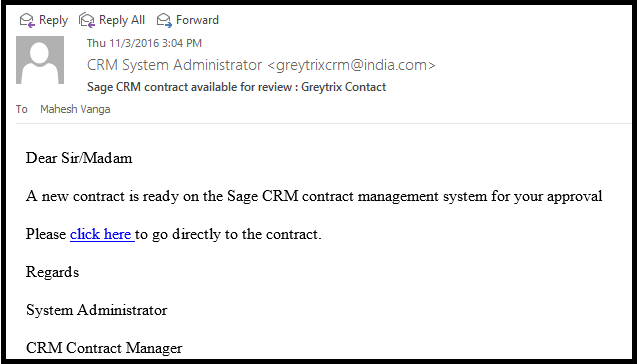 The Manager approves and chooses Draft 1 Manager Approve" which then moves the workflow to "Draft 1 Supplier Review".
At this stage, an automatic email has been sent out to the Customer/supplier with a PDF version of the contract for their review.
The Contract has been approved by the Customer/Supplier and now is available for final approval.
This stage represents approval by both parties on the terms and conditions and overall contract in general. The Contract becomes active on this date and the end date/notify date are calculated automatically.
Workflow also enables Users to move the contract back to the "Editing" or "Draft 1 Change" stage and iterate the process again.
Users can also generate contract agreement document at any stage from contract summary screen and the generated document will be stored in the documents section of contract context.
For more information or demo on this product mail us at crmproducts@greytrix.com
About Us
Greytrix a globally recognized Premier Sage Gold Development Partner is a one stop solution provider for Sage ERP and Sage CRM needs. Being recognized and rewarded for multi-man years of experience, we bring complete end-to-end assistance for your technical consultations, product customizations, data migration, system integrations, third party add-on development and implementation expertise.
Greytrix has some unique integration solutions for Sage CRM with Sage ERPs (Sage Enterprise Management (Sage X3), Sage Intacct, Sage 100, Sage 500 and Sage 300).We also offer best-in-class Sage ERP and Sage CRM customization and development services to Business Partners, End Users and Sage PSG worldwide. Greytrix helps in migrating of Sage CRM from Salesforce | ACT! | SalesLogix | Goldmine | Sugar CRM | Maximizer. Our Sage CRM Product Suite includes Greytrix Business Manager, Sage CRM Project Manager, Sage CRM Resource Planner, Sage CRM Contract Manager, Sage CRM Event Manager, Sage CRM Budget Planner, Gmail Integration, Sage CRM Mobile Service Signature and Sage CRM CTI Framework.
Greytrix is a recognized Sage Rockstar ISV Partner for GUMU™ Sage Enterprise Management – Sage CRM integration also listed on Sage Marketplace.
For more information on our integration solutions, please contact us at sage@greytrix.com. We will be glad to assist you.