As you know, Sage CRM 7.3 came with a feature of creating PDF merged documents. You can create PDF merged documents using "Merge To PDF" option available in New Menu. Also, you can do the same from workflow also. Please refer below blog link for the same.
Related Post: Merge to PDF through workflow in Sage CRM 7.3
The "Merge To PDF" option is available for all users so that everyone can create PDF documents. But, if you wish to show the button to particular users only, then you can achieve the same by following below mentioned steps.
1.    Login into Sage CRM.
2.    Go to Administration -> Advanced Customization -> System Menus -> newactivity.
3.    Select "Merge to PDF" option and in the SQL clause, write the SQL condition as per your need and click on Update button then save.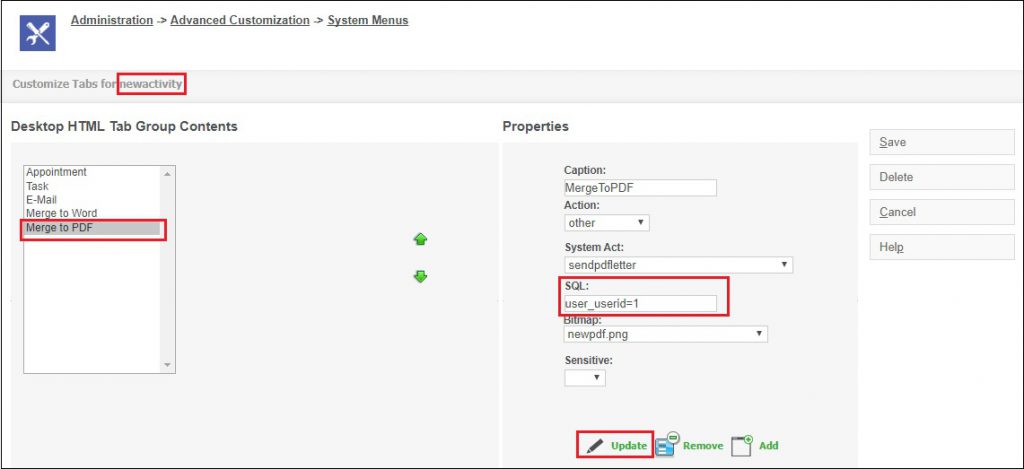 After following above steps, if you login through other user except Admin, you will not be able to view "Merge To PDF" option in New menu.


Also Read:
1. Export To PDF functionality for Quotes in Sage CRM
2. How to add more columns in Export to file documents
3. File to PDF conversion using FOP
4. Mailing reports after converting from Crystal Reports to PDF format
5. Generate Excel/PDF reports on standard Sage CRM entities externally