MailChimp is one of the effective email marketing tool available in sage CRM, through which you can send bulk of emails to your customers/prospects just by creating various marketing campaign in CRM. The results from the campaign are shown within Sage CRM and you can see various statistics like how many people opened the email and exactly what they clicked.
New Stuff: Unable to save MailChimp Configuration in Sage CRM
In today's blog will discuss about one of the error that we were facing while sending groups to mailchimp. We have integrated MailChimp account in our Sage CRM. After mailchimp integration, we have created one group in sage CRM for sending email to customers. From the group summary we clicked on "Send to MailChimp" button and after clicking on button it shows notification message as shown in below screenshot.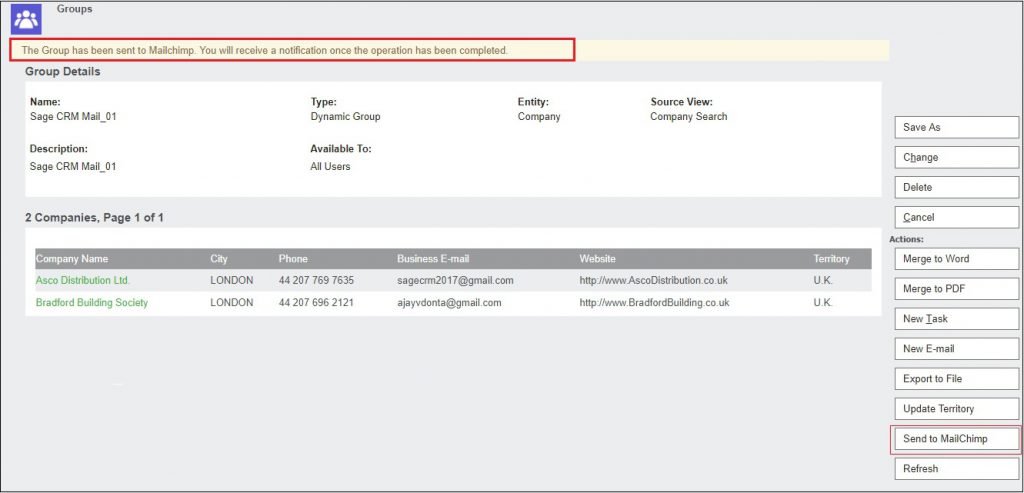 After few seconds we got the notification in Sage CRM with error as shown in below screen shot.

When clicked on that notification we saw the new group with list of contacts, but we did not found the actual cause of error. You can refer below screen shot as well.

Then we go through the logs generated in Sage CRM and from the logs we found that someone has manually deleted contacts from mail chimp account and this cannot be re-imported. You can refer below error log screen shot.

So in order to resolve this, you need to re-subscribe the contacts in mail chimp for adding group in mail chimp account, follow the below steps for re-subscribing:
Login to MailChimp account.
Navigate to the Audience tab.
Click the Manage Audience drop-down and select Signup Forms.
Select template and at the bottom click on Subscribe button.
Add valid email address and preferred format. Click on Subscribe button.
After successful subscription, you will get Subscription Confirmed screen.
After successful subscription of contact in mail chimp, resend the group to mailchimp from sage CRM. After resending, you will get the notification that the group of peoples are added or updated successfully in mail chimp as shown in below screenshot.