As you all must be aware, Sage CRM 2021 R1 has come up with many interesting features related to Configurations, Security and Network related functionalities which has improved the reliability of Sage CRM to a greater extent as compared to previous versions. In our previous blog, we explored the 'Click to Dial Links' feature of CRM 2021 R1 which made calling – automation possible by navigating to Calling apps through single click. Below is the link for the same –
Related Stuff: Sage CRM 2021 R1: Click to Dial Links
In this blog, we will explain about another new feature of Sage CRM 2021 R1 i.e. "Inline customization of lists and grids". Inline customization allows to get a quick look of a screen before and after you customize it or say make configurational changes. For example, you might want to change the position of a field on the Case Search screen or you may want to add new field on the summary screen. Inline customization is also useful in finding the name of a screen, list and grid. You can use inline customization for primary as well as secondary entities.
In earlier versions of Sage CRM, to make any changes in the list or grid such as adding a new column or removing existing column, changing the position of columns, to allow order by for columns, or changing the alignment for columns etc., every time you had to go to Administration section -> Customization area -> select the respective primary or secondary entity.
Let's take an example of Cases entity. If you want to change a list, you need to navigate to the Lists tab of Cases entity. Here, you will find the complete view of all the standard lists defined for the cases entity. Every screen or tab has a dedicated list defined for it. You can select the respective list and make the changes. Though this process was introduced and followed in all the earlier versions of CRM; it was somewhat a time-consuming process for Administrator. Not only that, but one also had to remember the name of list they want to edit.
To overcome this time-consuming process, Sage CRM 2021 R1 came up with new feature "Inline customization of lists and grids". This functionality of Inline customization of lists and grids is similar to that of inline customization of screens.
With the use of Inline customization, System Admin can change lists and grids in CRM just like that of screens. Inline customization allows you to see how a list or grid looks like before and after your made changes. While using this inline customization method for list or grid, you can also find out the name of the list or grid, thereby avoiding the time to switch between the Admin section and User work panel section of CRM.
As you all must be aware, Lists are displayed when you select a tab within the context of company, case, lead, opportunity, solution, or person. Grids are used to display the results of a search for a person, lead, case, opportunity, and so on. Grids are also displayed on the Company Quick Look tab.
Follow below steps for changing a list or grid using inline customization in Sage CRM 2020 R1:
Go to Administration -> Customization -> Primary Entities or Secondary Entities -> Lists.
Check the checkbox to allow Inline customization, here we are considering Case list. You can refer below screenshot for your reference.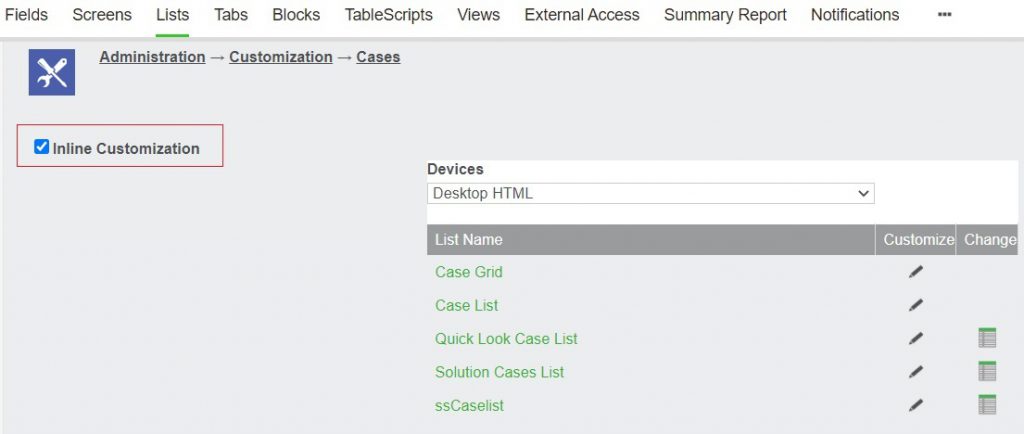 Now open any list or grid you want to customize.
In the top left corner of the case list, you can see from below screen shot that Customize Screen hyperlink option is enabled.

5. Now click on Customize Screen option. In the window that opens, you can view the name of the case list being customized in parenthesis in the top left corner. You can refer below screen shot for the same.

Make your changes in case list like adding column, removing existing column, allow order by or column alignment etc. and click on save button to save the list. Changes will be reflected on the respective list or grid.
Go to Administration -> Customization -> Primary Entities or Secondary Entities -> Lists and uncheck the Inline Customization checkbox to clear Inline Customization to disable the Inline Customization.
In this way, with few steps you can now enable Inline customization for lists and grids to make the changes or configurations in it without having to switch between the Administration section and work space where the actual outcome can be viewed. Inline customization is for all the primary as well as secondary entities. It can also be utilized for Custom entities of CRM.
About Us
Greytrix – a globally recognized and one of the oldest Sage Development Partners is a one-stop solution provider for Sage ERP and Sage CRM organizational needs. Being acknowledged and rewarded for multi-man years of experience and expertise, we bring complete end-to-end assistance for your technical consultations, product customizations, data migration, system integrations, third-party add-on development, and implementation competence.
Greytrix has some unique integration solutions developed for Sage CRM with Sage ERPs namely Sage X3, Sage Intacct, Sage 100, Sage 500, and Sage 300. We also offer best-in-class Sage ERP and Sage CRM customization and development services to Business Partners, End Users, and Sage PSG worldwide. Greytrix helps in the migration of Sage CRM from Salesforce | ACT! | SalesLogix | Goldmine | Sugar CRM | Maximizer. Our Sage CRM Product Suite includes addons like  Greytrix Business Manager, Sage CRM Project Manager, Sage CRM Resource Planner, Sage CRM Contract Manager, Sage CRM Event Manager, Sage CRM Budget Planner, Gmail Integration, Sage CRM Mobile Service Signature, Sage CRM CTI Framework.
Greytrix is a recognized Sage Champion Partner for GUMU™ Sage X3 – Sage CRM integration listed on Sage Marketplace and Sage CRM – Sage Intacct integration listed on Sage Intacct Marketplace. The GUMU™ Cloud framework by Greytrix forms the backbone of cloud integrations that are managed in real-time for the processing and execution of application programs at the click of a button.
For more information on our integration solutions, please contact us at sage@greytrix.com. We will be glad to assist you.