Sales Commission Application for Sage Intacct is beneficial for Sage Intacct users to calculate and pay a sales commission to the respective salesperson to achieve better efficiency and save time in calculating commission, excluding tedious work of manual commission calculation. So, using this application Sage Intacct users can easily define commission rules and automate commission payments on sales transactions.
Reverse Posted Commissions is a feature available in sales commission application which helps a user to reverse/delete the posted commissions which were subconsciously posted with inaccurate commission group, amount, rate, etc. With the help of the below screen a user can reverse the commissions and reinitiate and post the calculated commissions. A user can also delete unposted GL/employee commissions which are in completed state.
The below screen provides you to filter the data with Invoice Date, Invoice No. & Customer ranges.
Sales Commission > Reverse Posted Commissions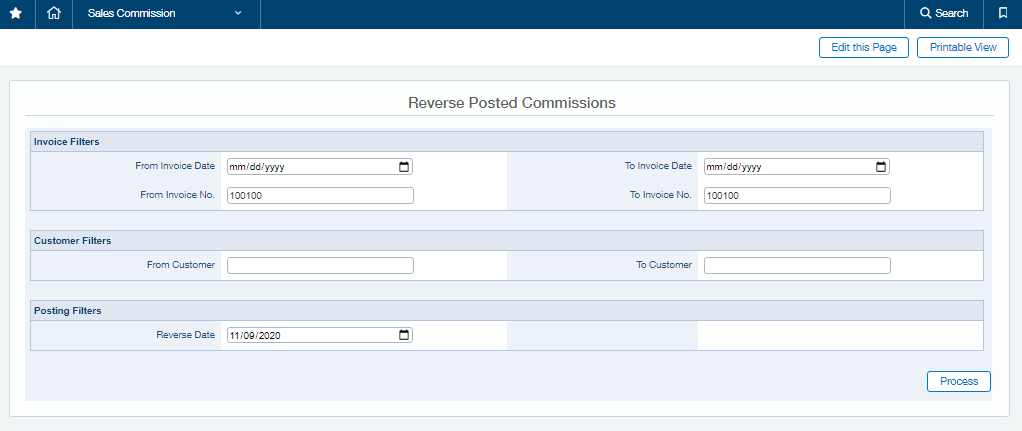 There is a procedure for a user to edit/delete the completed/pending state commissions through "View Invoice Commission" screen, but in an uncertain scenario if user is unable to delete those commissions, they can use this 'Reverse Posted Commissions' screen. Only calculated invoice commission lines will be deleted on reversal without effecting in GL entries as the commissions were not posted.
Deletion of posted Invoice commissions from "View Invoice Commission" and employee commissions from "View Employee Commission" are restricted and can only be reversed through this screen as only posted state commissions are eligible for reversal.
Commission cannot be reversed for the invoice on which commission amount is paid to any one of the attached employees. Error message will be displayed on the screen stating "Some of the Employee commissions have been paid".

If few of the invoices which have commission and are paid on the selected invoice range then the reversal for those invoices will be skipped.
Reverse date should be selected for the posted date for reversed journal entries on the above screen or else today's date will be selected by default if not selected.
At the time of posting commission expense journal entries, the GL accounts that were set in GL Groups/global Configuration will be considered for Reverse journal entries.
Similar to the posted expense journal entries, the dimensions (Cost Centre, Performance Group, Customer, and Project) will also be tagged in the Reverse entries.
If the Commission journal entries is in Draft state, the concerned GL batch will be deleted from the record. As only Commission Expense journal entry for the Invoice will be reversed if it is in Posted state.
Below is an example where the posted Commission expense journal entry for Invoice 100100, with a reference no 100100 which will be updated with Reverse date upon Reversal.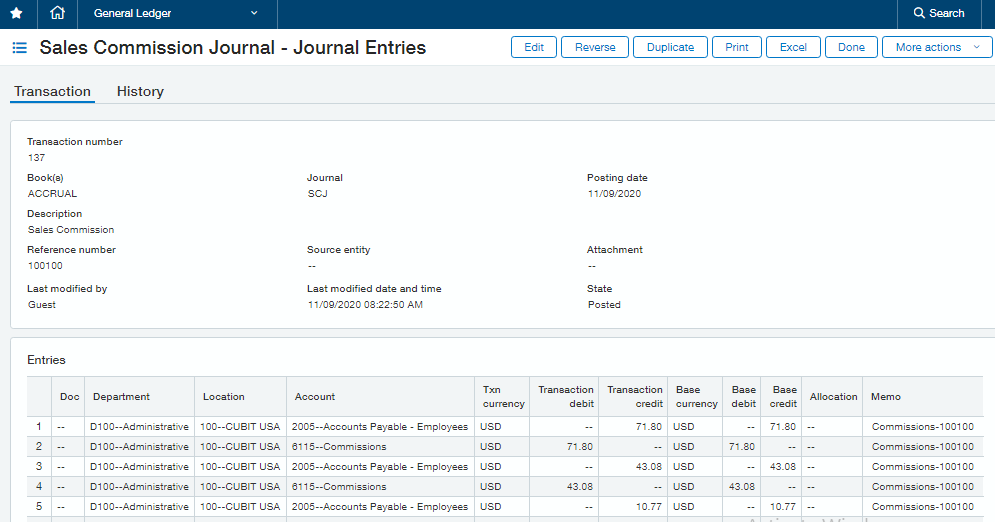 And, below is the example of the Reversed journal entry for Invoice 100100 with a reference no mentioning "Reversed-100100". Where the description states "Reversed- Sales Commission". Reversed entry will now be in posted state.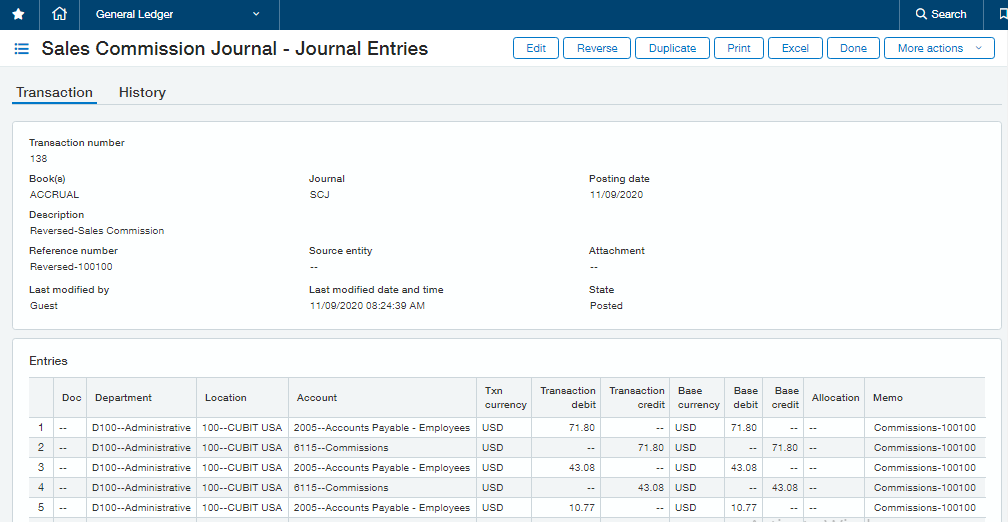 Beyond Reversal, Users can go to Sales Commission > Add Invoice Commission for recalculating the Commissions for Reversed Commission Invoices.
About Us
Greytrix – a globally recognized and one of the oldest Sage Development Partner is a one-stop solution provider for Sage ERP and Sage CRM organizational needs. Being acknowledged and rewarded for multi-man years of experience and expertise, we bring complete end-to-end assistance for your technical consultations, product customizations, data migration, system integrations, third party add-on development and implementation competence.
Greytrix has a wide product range for Sage Intacct- a Cloud ERP. This includes migrations from QuickBooks | Sage 50 | Sage 100 | Sage 300 to Sage Intacct. Our unique GUMU™ integrations include Sage Intacct for Sage CRM | Salesforce | FTP/SFTP | Rev.io | Checkbook | Dynamics 365 CRM | Magento | Rent Manager | Treez | Avalara Avatax | Blackline SFTP. We also offer best-in-class Sage Intacct Development Services, Consulting services, integrated apps like POS | WMS | Payroll | Shipping System | Business Intelligence | eCommerce for Sage Intacct to Sage business partners, resellers, and Sage PSG worldwide. Greytrix constantly develops apps, products, and add-ons to enhance user experience. Sage Intacct add-ons include AR Lockbox File Processing.

Greytrix GUMU™ integration for Sage CRM – Sage Intacct, Sales Commission App for Sage Intacct, and Checkbook.io ACH/Digital Check Payments for Sage powered by GUMU™ are listed on Sage Intacct Marketplace.
The GUMU™ Cloud framework by Greytrix forms the backbone of cloud integrations that are managed in real-time for the processing and execution of application programs at the click of a button.
For more information on Sage Business Cloud Services, please contact us at sagecloud@greytrix.com. We will like to hear from you.