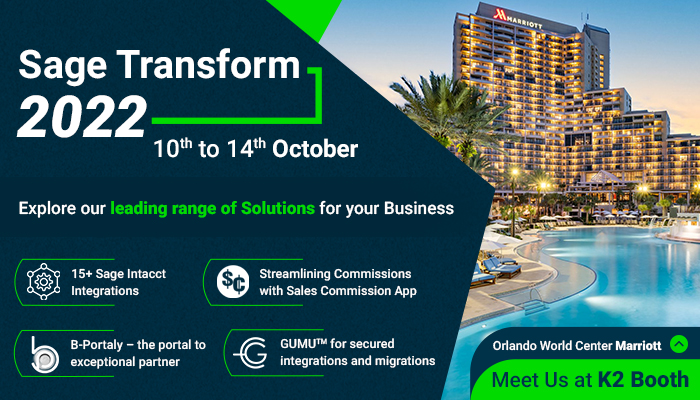 We feel thrilled and excited as we announce that Sage Transform 2022 is just a few weeks away! This grandiose event will be held from 10th-14th October 2022. Last year, the event was held in a little different way, where attendees were given the option to either be present in person or virtually. But, this year, it is back in its traditional way; the Sage Intacct Community will be available at the venue.
As the event is approaching, everyone is excited to share knowledge, gain valuable insights on different products, and connect with businesses from across the globe. As Sage Partners and silver sponsors of the event, Greytrix has always aimed to help enterprises to leverage the power of Sage Intacct by providing them with the best-in-class solution that works for their betterment. Having said that, we're all set to make our presence at Sage Transform in Orlando memorable this year.
A Sneak Peek of Sage Transform 2022
This year, Sage Transform is going to be bigger and better in all aspects. It will be an inclusive platform for all the stakeholders, businesses, and customers to come together to be a part of a massive Sage Intacct ERP experience driving innovation and advancements in the tech space. And Greytrix is one of the leading contributors that thrive to provide even better and more effective solutions to businesses with Sage Intacct.
Therefore, at Sage Transform 2022, you can consider Greytrix one of the booths to stop by and have a productive discussion on the different products, solutions, and services that we are bringing at the event.
Our Motto at Sage Transform 2022
Greytrix has always been a one-stop solution for businesses rather than just being another organization offering Sage and Sage Intacct-related services. Our business model revolves around providing top-quality solutions to businesses with a quick turnaround time.
Therefore, our motto at Sage Transform 2022 is also about serving businesses and helping them grow. And it is:
Integrate. Transform. Grow
Here, 'integration' stands for our wide range of integrations that serve as the ideal solution for organizations from different verticals and business needs.
Whereas 'transform' indicates a real and effective transformation of your business to streamline complex operations and processes through our apps like Bportaly and Sales Commission, our Sage Intacct development services, and our range of integration solutions.
Lastly, 'grow' symbolizes the growth of an organization using our meticulously designed products when it chooses to integrate and transform.
What Greytrix Will Be Presenting at Sage Transform?
At Sage Transform 2022, Greytrix will be coming as champion app developers. One of the key services that we'll focus on is Sage Intacct. We've been one of the oldest Sage Development partners in the market with more than 22 years of experience. Greytrix is the one-stop solution for all-around services for Sage Intacct. With that being said, let's have a look at our whole range of Sage Intacct services.
Sage Intacct development is one of our prime expertise. We help businesses leverage the power of Sage Intacct to move their organization in the right direction. Our offshore development services cover an array of solutions, including platform services, bespoke customization, web API & SDK, Sage Intacct portal, and financial reports, dashboard & BI.
Not just this, we also assist with a full range of Sage Intacct application support including app configuration. Over the years, we've also developed new modules for industry-specific Sage Intacct add-ons and customization.
For tailored Sage Intacct development solutions, you can consider Greytrix as we have a deep understanding and experience in Sage Intacct.
As one of the highly-rated Sage Intacct developers, Greytrix will be bringing a range of over 15+ robust Sage Intacct integrations in different domains. In simpler terms, we integrate other third-party apps to Sage Intacct and make it easier for businesses to operate in their respective industry and streamline the complex processes for them. However, there is much more to it, and hence, we recommend you visit our booth and have a detailed discussion on these meticulously-designed solutions. Meanwhile, you can go through our range of Sage Intacct integrations with different third-party apps for different industries.
Our integration services are well-supported by our champion integrator, GUMU™. For the information, it is a cloud-based integration platform that makes the integration quick and seamless between Sage Intacct and the third-party app. Besides, one of the best things about GUMU™ is that it is a one-click integration platform, which means one doesn't have to perform coding to ensure integration.
Greytrix takes pride in announcing that it is also now a prominent Sage Implementation Partner. We have competent tech experts that are proficient in delivering all-around assistance to Sage Intacct customers through direct end users, Sage Business partners, and system integrators.
We're certified Sage consultants, and serve in different business domains such as finance, professional services, SaaS services, distribution, multi-entity, global consolidation, and Indian localization (GST and legislation compliance).
From SMEs to large organizations, we understand the objectives of any business and create the road map to seamless Sage Intacct implementation. In addition, we assist in assessing business rules and configuring the solution and project planning.
We understand that data migration is a complex yet important part of IT operations in every organization. Thus, over the years, we've also come out as a reputed leader in offering effective data migration services. We are known to provide clean and data-rich Sage Intacct migration solutions to businesses.
For that, we follow a process that includes the best methodologies and practices for planning, designing, migrating, validating data migration. You can rest assured as we follow a systematic approach for migrating or transferring data from ERP systems to Sage Intacct system.
Whether you want to migrate to Sage Intacct from Sage 300, Sage 100, Sage 50, QuickBooks, or Acumatica, we have got you covered for all.
Apart from the robust Sage Intacct ERP, we also bring two of our in-house leading solutions; Sales Commission App and BPortaly.
At the Sage Transform conference, Greytrix will also be presenting its own native application, Sales Commission. The app is built on the Intacct platform as an ideal solution for businesses to generate error-free calculations or commissions.
Not just this, the Sales Commission app also facilitates better business visibility aiding growth as it manages complete commission processes. Not just this, Sales Commission for Sage Intacct also ensures automation of calculation and adjustments of transactions and invoices. As a result, it reduces the scope of errors. Besides, businesses can also automate and render commission payments on time. And all of that can be tracked through an intuitive dashboard and detailed reports.
As we call it a complete package solution, Bportaly is another Greytrix application to help businesses to create a meaningful client experience. The app not just only provides businesses with the needed help to streamline sales, vendor, and customer-related operations, but also facilitates the automation of complex processes for businesses.
Under Bportaly, there are different apps for business partners; one of which is Customer Portal. Under this app, customers are given a number of options and features to make the whole buying experience smooth and seamless. They can track orders, get product details, ask for quotes on desired products, view their purchase history, and even explore many displayed products.
Running on crunch time? Well, fret not, we've got you covered! All the crucial information on Sage Transform 2022 is also included in this short video. Check it out and you'll be good to go!
Meet Our Team
At Sage Transform 2022, two of our thought-leaders highly experienced techno-functional experts and quick-thinking minds, will be representing Greytrix. So, visit our booth and make it an interesting and an insightful session interacting with our team and engaging with our products. Also, make sure to get the best possible solution for your business.
With an opportunity to be a part of multiple sessions and workshops, along with getting significant industry insights and meeting skilled experts from different industries, Sage Transform 2022 is definitely going to be a promising event. So, come and join us in Orlando to witness the futuristic innovation in tech space.
Click here to book an appointment to fix your slot and meet us at the K2 booth.
Let's together brew some interesting tech-specific discussions!