In the previously posted blog, we explored the ways through which users can seamlessly promote Salesforce Sales Order record to Sage 100 ERP system using native SFDC Lightning Components.
In this blog will dwell further on an interesting aspect on how the GUMU™ Integration Sales Order functions (for an integrated customer record), to which the tax calculation has been exempted in the Sage 100 ERP system.
Read More: Why Use GUMU™ for Salesforce and Sage 100 Integration?
In Sage 100 ERP system, there is a provision for the Sage 100 ERP users, wherein users can exempt a particular tax code present under the assigned Tax Schedule code in the Customer Maintenance screen. For instance, Customer A To Z Carpet Supply has Tax Code CA Exempted in the Tax Exemption Maintenance screen by the means of Tax Exemption Number on it.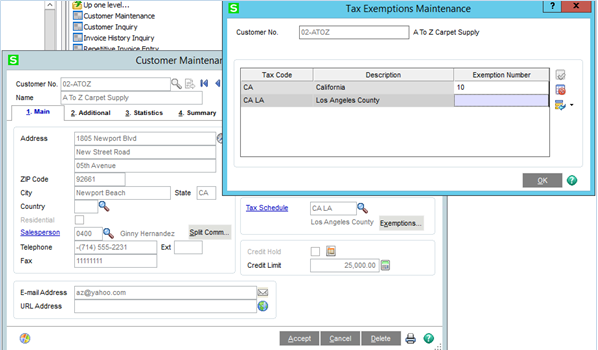 Tax Exemption Screen
Now when we use the same Accounts/Customers records on the GUMU™ Sales Order screen, it provides the users real-time tax calculation information for the selected item with the tax rate amount applied based on the Tax Exempted code associated with the Customers.
Taking the example further, users is able to view real-time tax rate information along with the calculated tax amount information based on the tax rule assigned in the Add Product Screen.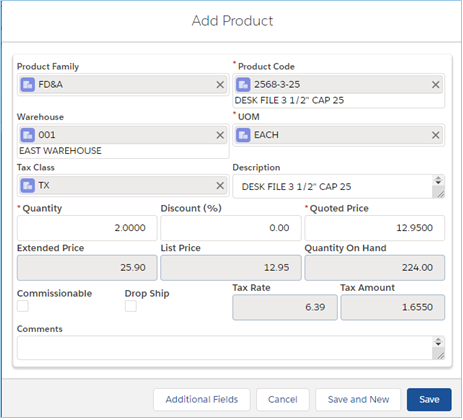 Add Product Screen
In the above instance, the tax rate information is calculated based on the tax rate applied for Tax Code "CA LA".
In a second scenario, if the user proceeds further to add tax exemption number to the second Tax code, tax rate fetched from Sage 100 ERP would be zero and Sales tax will not be calculated on the GUMU™ Sales Order in accordance with the Sage 100 Order entry functionality.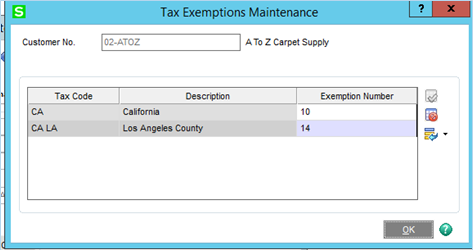 Tax Exemption CA LA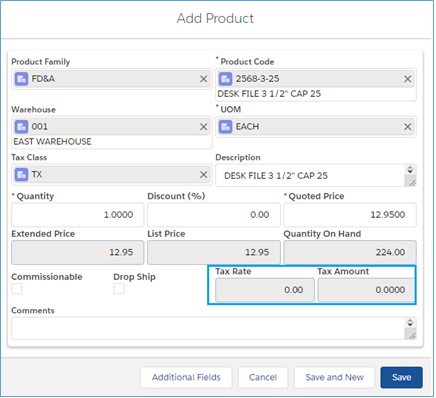 Tax Calculation
Through this way, GUMU™ Integration gives users 360-degree view of Sales tax calculation on a real time basis and helps users understand the calculated total amount prior to promoting the Sales Order from Salesforce to Sage 100 ERP system.
Please note that the changes are only applicable to newly added items to orders or the one that are being updated. In case if you still have any query/question, please contact us on salesforce@greytrix.com. We will be glad to assist you.
About Us
Greytrix – a globally recognized and one of the oldest Sage Development Partner and a Salesforce Product development partner offers a wide variety of integration products and services to the end users as well as to the Partners and Sage PSG across the globe. We offer Consultation, Configuration, Training and support services in out-of-the-box functionality as well as customizations to incorporate custom business rules and functionalities that require apex code incorporation into the Salesforce platform.
Greytrix has some unique solutions for Cloud CRM such as Salesforce Sage integration for Sage X3, Sage 100 and Sage 300 (Sage Accpac). We also offer best-in-class Cloud CRM Salesforce customization and development services along with services such as Salesforce Data Migration, Integrated App development, Custom App development and Technical Support to business partners and end users.
Salesforce Cloud CRM integration offered by Greytrix works with Lightning web components and supports standard opportunity workflow. Greytrix GUMU™ integration for Sage ERP – Salesforce is a 5-star rated app listed on Salesforce AppExchange.
The GUMU™ Cloud framework by Greytrix forms the backbone of cloud integrations that are managed in real-time for processing and execution of application programs at the click of a button.
For more information on our Salesforce products and services, contact us at salesforce@greytrix.com. We will be glad to assist you.
Related Posts