TDS has significant importance in Indian taxation system and every Individual/Company needs to pay proper TDS to Government. In this blog today we are providing a brief explanation on handling of Cumulative Cutoff while operating the Greytrix TDS utility for Sage Accpac ERP (Sage 300). This is again a very critical part and is handled well in our Greytrix TDS.
Cumulative cutoff:  If you check the cumulative cutoff check box then program will consider this section as under cumulative cutoff. You can define cumulative cutoff amount in Nature of deduction (NOD) screen for the TDS section which belong to this category. Refer the below screen shot.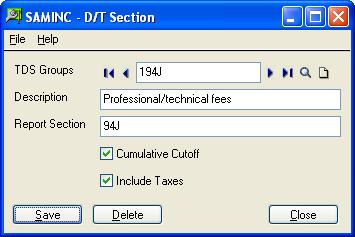 Whenever we define a Nature of deduction with a cumulative cut off section we need to set a particular amount as cumulative cut off limit [refer the below screen shot]. As per the cumulative cut off section rule it says that all the documents which lie below the cumulative cut off amount do not qualify for TDS deduction.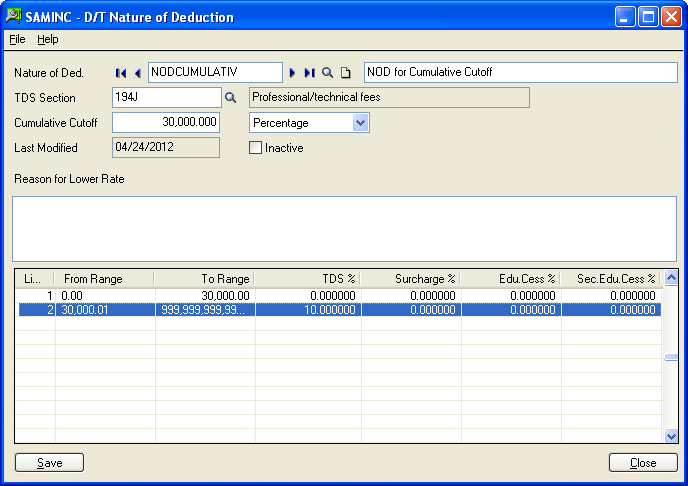 But when any Invoice against the same vendor is created such that the sum of all the previous documents and the current one exceeds the cumulative cut off limit in that case deduction is done on the entire summed up amount.

For example consider VENDOR V0001 is under the NOD which has cumulative cut off section applied against it. Consider, cumulative cutoff amount is Rs. 30000, in this case if you create 1st invoice of Rs. 25000. TDS amount will not be deducted for this invoice. But, if you create a document of Rs. 6000 then sum of all the documents results in to Rs. 31000 and this has exceeded the cut off limit along with the previous document. So, TDS amount would be deducted on Rs. 3100 where TDS percentage is 10.
Note :  Suppose you define the cumulative cutoff as RS 30,000 and also you have provided the TDS percentage amount [e.g. 10] for range 0-30,000. In this case program will not consider this NOD as under cumulative cutoff. TDS will be deducted for all documents which are belonging from this NOD.
—- Related Posts —-
1) Give your Accountants Break from the Tedious TDS
2) Greytrix TDS for Sage ACCPAC ERP now with Manual TDS Entry
3) Handling Tax Deducted At Source (TDS) on Rent Paid in Sage ACCPAC ERP
4) Greytrix TDS for Sage Accpac ERP – Generating file for Quarterly etds returns