In our previous blogs, we discussed about "Creating Single Sales Order from Multiple Sales Quotes" and "Creating Single Shipment entry from Multiple Sales Orders" in Sage (Accpac) 300 ERP. Now, we would be discussing about "Creating a Single Receipt Entry from Multiple Purchase Orders".
Sometimes, user can receive a Single Receipt against multiple Purchase Orders by Vendor. In such case, this feature comes in handy and avoids creating multiple receipts for multiple purchase orders.
Sage (Accpac) 300 ERP allows users to select multiple Purchase Orders to create a Single Receipt Entry. For e.g. when we want to create a Receipt against three different Purchase Order for the same vendor in Sage (Accpac) 300 ERP, we need follow the below mentioned steps;
1. Navigate to Sage (Accpac) 300 ERP>>Purchase Orders >> P/O Transactions >> Receipt Entry.
2. Fill initial header Vendor Number and check the 'From Multiple POs' checkbox option.
3. Click on drill option near the checkbox, a window will appear for selecting Purchase orders (for the Vendor selected in Receipt Entry screen) by clicking on finder button.
4. All the existing Open Purchase Orders of the selected vendor will appear in the window. Select the Purchase orders against which you want to create the Receipt Entry.
5. The Selected Purchase orders will be displayed in the below grid and the 'Receive' button will be enabled.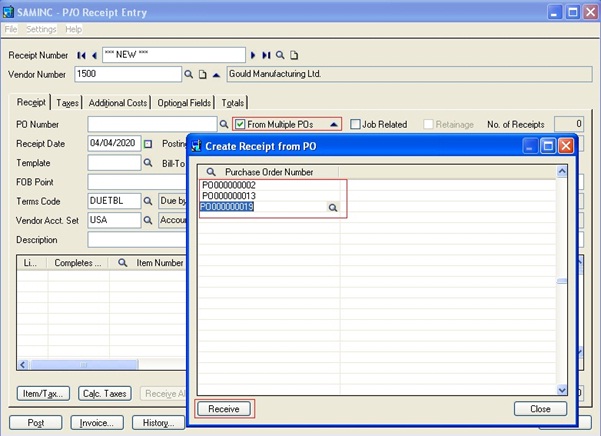 6. Click on 'Receive' button and then Click on Close button. All the line items from selected Purchase Orders will get filled into the PO Receipt detail grid as shown in the below screenshot.
7. The PO Number field will be filled with the Purchase Order no. which sequentially comes first in the selected Purchase Orders for Receipt.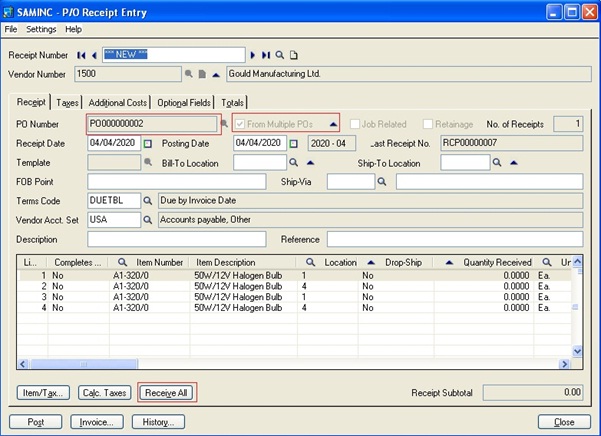 8. Initially Quantity Received field show 0 qty. Fill in the Quantity Received in each item line or click on 'Receive All' button in order to receive all the items from Purchase Order.
9. Click on post button. The Receipt will get posted and item's quantity will get affects at inventory locations.
As a result, Users can now  create a single Receipt Entry from multiple Purchase Orders.