In this blog, we would be discussing about a very unique feature of Sage (Accpac) 300 ERP, which allow its user to create a Single Sales Order from Multiple Sales Quotes. Generally, user creates sales Order from Sales quote, which they think as a feasible option for their business. But sometimes, there could be a possibility, where user receives a single order against multiple quotes provided to the customer. This is where this feature comes handy and increases productivity.
Sage (Accpac) 300 ERP allows users to select multiple quotes to convert them into a Single Sales order. For e.g. when we receive an order against two sales quotes and want to create Single Sales Order in Sage (Accpac) 300 ERP, we will follow the below mentioned steps;
1. Go to Sage (Accpac) 300 ERP>>Order  Entry >> O/E Transactions>> Order Entry
2. Put the initial header information like customer no., Order Type as (Active, Future or Standing only), Ship to Location, Location etc.
3. Check the option 'From multiple Quotes' and Click on drill option near the checkbox.
4. A window will appear with finder control to select the Sales Quote by clicking on the finder button.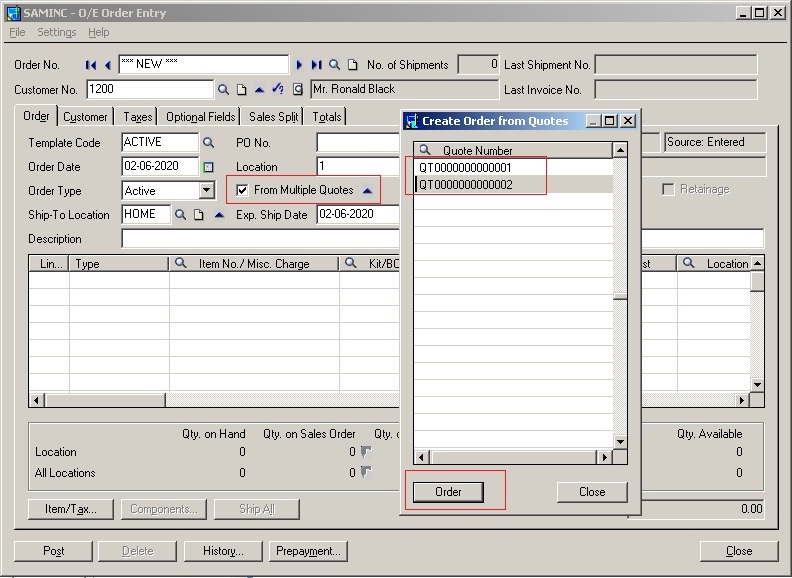 5. All the Active existing sales quotes for the selected customer will appear in the window. Select the Sales quotes against which you want to place the order.
6. The 'order' button will get enabled once the list of quotes selected gets displayed in the grid.
7. Click on 'Order' button. All the items from selected quotes will get filled into the sales Order grid as shown in the below screenshot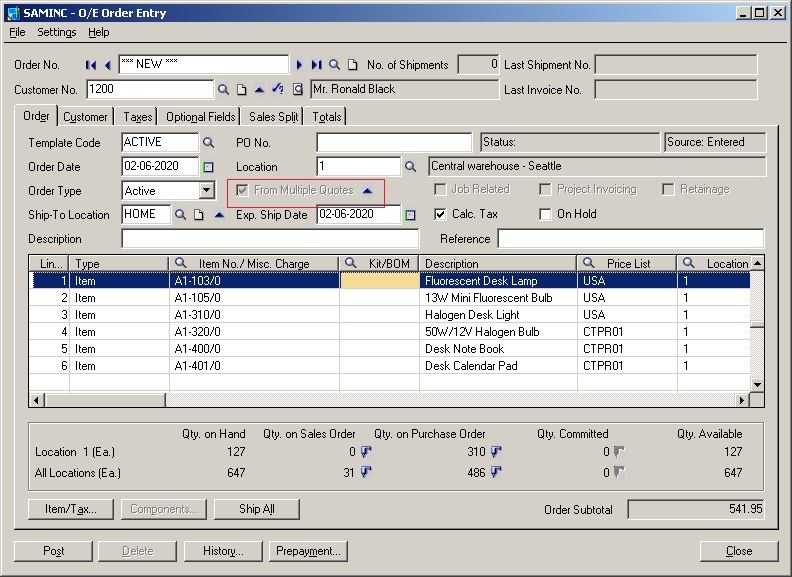 8. Click on post button. The sales order will get posted.
Hence, Users would be able to create a Single Sales Order from Multiple Sales Quote. For more information, get back to us at sales@greytrix.com.