Sage Exchange is a secure payment processing application, managing entire payment System at one central location. It is used for making online payment through Sage 300 ERP (formerly known as Sage Accpac ERP) Payment Processing module enabling Users to acquire Merchant ID and Merchant Key.
Thus with Sage Exchange, payment activity gets updated on Real time across your entire organization.
Before getting started, there are some Prerequisite that has to be taken care;
Operating Systems required is as below:
1. Windows: IE 8.0 or greater, Firefox 3 or greater, Chrome 9 or greater
2. Linux: Firefox 3 or greater, Chrome 9 or greater
3. Mac OSX: Safari 5 or greater, Firefox 3 or greater, Chrome 9 or greater
System Requirement:
1. Windows installer 3.1
2. DotNet Framework 3.5
3. Sage Payment Module SDK
Sage Exchange should be installed on workstation where you want to process credit card transactions. Sage Exchange is a fully Payment Card Industry (PCI)-compliant payments platform, which enables assimilation of data between Sage 300 ERP and Payment Processor. Once you are done with payment and setup you would receive Merchant Account and Merchant ID.
While Installing Sage Exchange, System search's for DacEasy; if it does not finds DacEasy it will prompt below message.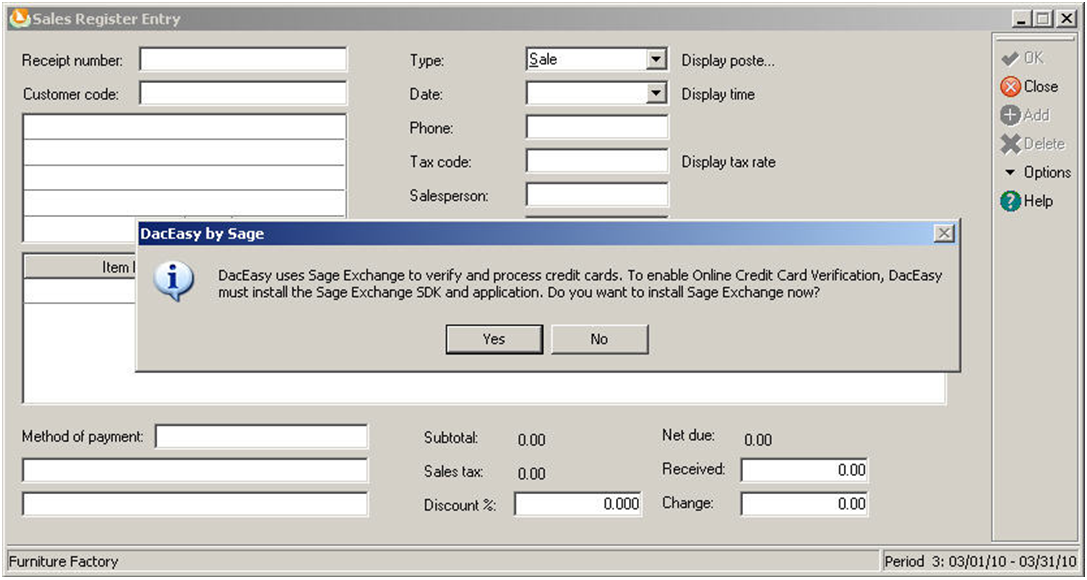 Click on yes, program will download and would start installing Sage Exchange.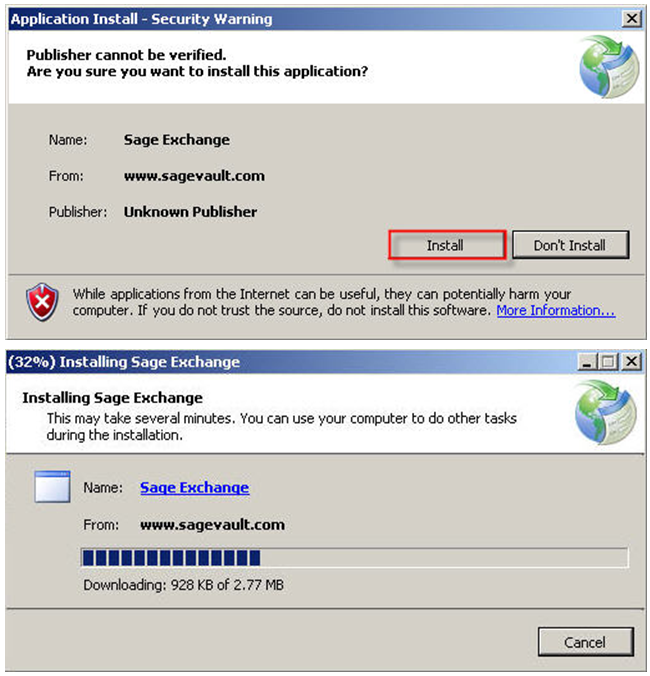 After installation Sage Exchange icon would get created on your system.
While Installing you may come across some Issues/Problems as mentioned below:
Firewalls and Antiviruses may not allow you to Install Sage Exchange. To avoid this you can perform following steps:
1. Add following URLs to safe zone in your Antivirus and Firewall software:
a. sagepayments.net
b. sageexchange.com
2. Add following files to safe zone in your Antivirus software:
a. Sageexchange.exe
b. SpsModuleSdkCl.dll
Sage Exchange starts automatically when you process transaction for Payment Processing, and runs in your system. To start Sage Exchange manually:
1. Navigate to Start button on Windows task bar, click on All Programs >> Sage Payment Solutions >> Sage Exchange.
2.  First time you enter credit card details or process a transaction, Sage Exchange may take some time to open, validates merchant account information and opens Sage Payment Solutions browser form.
3. After initial validation, Sage Exchange remains open in system while Sage 300 ERP is running, so consequently credit card transactions will launch Sage Payment Solutions browser form faster.
Thus, transform your payment process in Sage 300 ERP with  Sage Exchange's secured PCI compliant platform.