Moving data from a legacy system to a new enterprise system is always a challenging job, especially when it is historical information. Sage Pro ERP is one of such systems from whom moving historical data require expertise hands.
We [Greytrix] have been working on Sage Pro ERP since its SBT days. We have been awarded Sage 300 (formerly Accpac) Development Partner of the Year and have a Sage Certified Solution for migration to Sage 300 ERP. Thus, we know in and out (both in terms of technical architecture and functional behavior) of both Sage Pro and Sage 300 ERP systems.
Thus, to help Sage Pro users move to Sage 300, we have developed GUMU migration solution, wherein we convert all the historical data of AP and AR modules along with GL module. GUMU convert data from all the standard modules of Sage Pro system to Sage 300 system without any limitation on the number of historical years.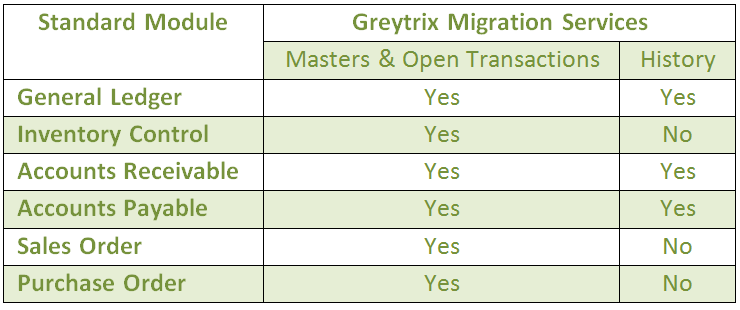 Also Read: GUMU – A Sage Certified migration solution by Greytrix
Our migration services include one test and one live conversion so as to make the live data is accurate. All this is provided at a fixed cost. To know more in detail of what's migrated download feature list from our website.
In data migration, most users are concerned as how can they change the existing masters? For this, we have a very simple process, in which we extract all the master information from Sage Pro into a spread sheet and ask users to provide the proposed master code to be entered in the new system.
Data/record merging is also one of key features wherein we merge duplicate records into a single record along with their transaction details.
Before we proceed further, let's have a glance at some advantages of GUMU Migration service for Sage Pro – Sage 300 ERP;
1. Data inconsistencies: We correct data related issues and make the data consistent with the destination ERP.
2. Support all Sage Pro versions: There is no version related limitation to it. We convert data from almost all Sage Pro versions to Sage 300 ERP.
The above discussed is our standard migration process, however, if you wish to convert data from User defined custom fields in Sage Pro ERP; then we honor those requests as well and convert them into Sage 300.
Hence, by selecting Greytrix as your migration partner, you don't have to take pain of migrating data yourself; we would take care of it so that you can devote your valuable time to other important tasks.
About Us                
Greytrix is a one stop solution provider for Sage ERP and Sage CRM needs. We provide complete end-to-end assistance for your technical consultations, product customizations, data migration, system integrations, third party add-on development and implementation expertise.
Greytrix helps in migrating to Sage 100, Sage 300 and Sage X3 from Sage Pro, Sage 50 US, Sage 50 CA, Sage 50 Usage Business Works, Sage Business Vision and QuickBooks.
For more information on migration solutions, please contact us at erpmig@greytrix.com. We will be glad to assist you.