Recurring?  One that occurs again periodically or repeatedly.
Recurring charges simply refer to transactions which takes place periodically. It also means to raise an invoice for a particular service or order at specified intervals to your customer. Let's take an example of "consulting". Your customer who has taken consulting services from you will pay a fixed/agreed amount every week or month and in turn, you would send the invoices accordingly. These transactions occur at a specified interval, hence recurring.
Other common examples of recurring charges are rent, water utility charges etc.
Greytrix Sage ERP X3 Blog : Greytrix Too Falls In Love With Sage ERP X3 Version 7
How does an A/R recurring charge work in SAGE 300 ERP?
Before we move on, let's take a look on Recurring charge code & Schedule code which is very important to do in a recurring charge transaction.
Recurring charge code: While creating a code to define a recurring charge, we can use the same recurring charge code for charges with different customers. We can specify a range of one or more codes when you create a batch of recurring charges.
Schedule code: scheduled code is used to ensure when the recurring charge is to be processed. We create a schedule code to define a schedule/time frame to process the recurring charge. Note that you must have an authorization to maintain schedules to be able to add or modify a schedule.
>> A/R – A/R setup – Options – Processing – mark the "Processing recurring charges".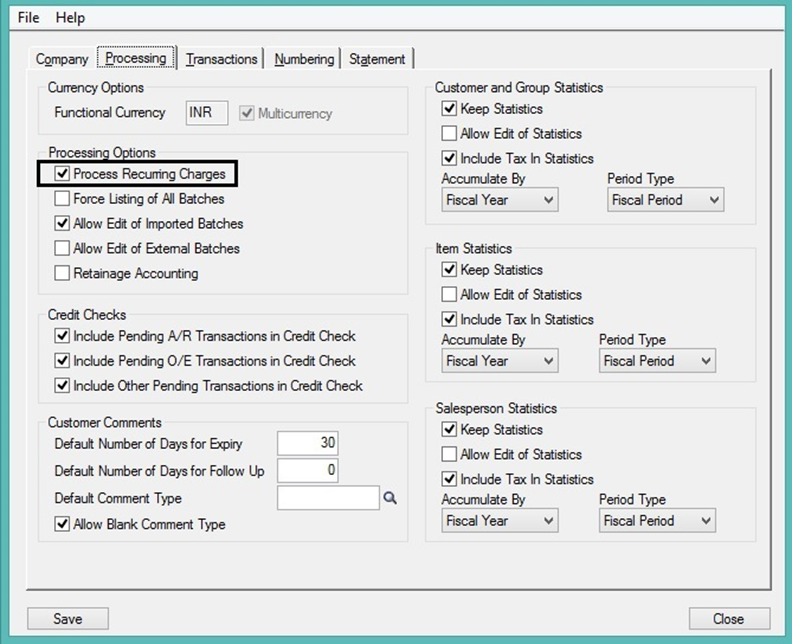 Selecting the Processing Recurring charges will enable the recurring charges form under A/R Customers.
 >>   A/R – A/R Customer – Go into Recurring Charges.
With the help of SAGE, you may either manually enter recurring charge or set a reminder where the system manager will help the user to process the charge when it is due.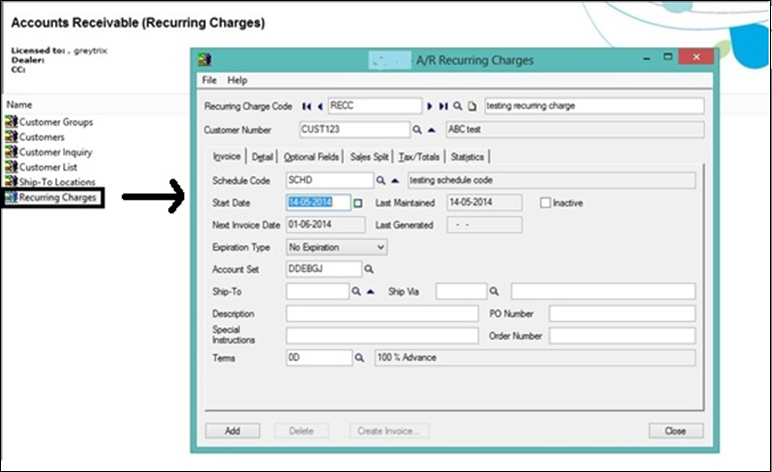 We can say that recurring charges refers to a simplified payment receiving process in SAGE  300 ERP. Recurring charges in SAGE helps you track the continuous payments from your customers. Don't worry about late payments, lost checks or raised invoices. SAGE helps you set reminders and scheduling.
There are few features in the form where you can select expiration type of a charge. Payment terms as to select the payment i.e. advance, 15 days, 30 days etc.
There are some tabs in the form to add or edit the additional information about the recurring charge. You can set distribution code, taxes and optional/additional fields to a particular recurring charge.
Set the Reminders:
Common Services – Scheduling – Schedules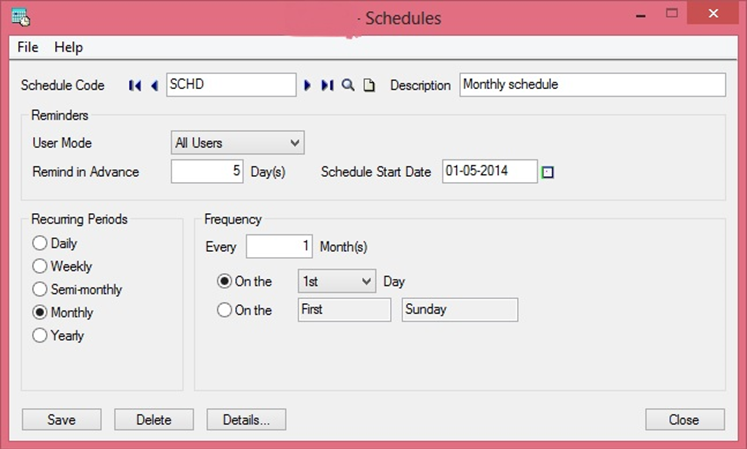 Here is an example: Let say ABC test is your customer who took consulting services from you and agreed to pay weekly a certain amount "x". Now to keep it easy when it comes to continuous payments, I Log into SAGE, open the Recurring form, add ABC test, apply the invoice /transaction date weekly and set a schedule. You won't have to worry again and again to raise invoice. Isn't this an easy activity to save time?
Once we entered the recurring charge, it should be processed for the impact into A/R.
How to invoice for a recur charge?
A/R – A/R periodic processing – Create recurring charge batch
1. Select the type of record by which to create charges (Recurring Charge Code, Customer Number, Customer Group, or National Account).
2. Specify the ranges for the selected record type.
3. Process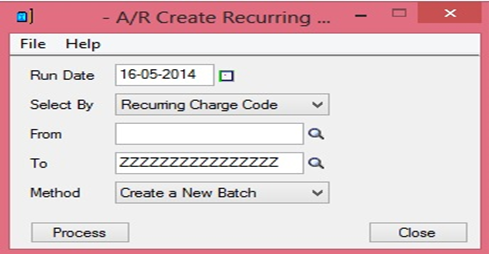 (We created a batch to post invoice) Look at the image above; Use this form to create recurring-charge invoices for the customers and charges you select. By doing this the program will create a new invoice (recurring charge invoice) batch with the number.
So you create one batch of recurring-charge invoices at a time, but you can have as many open batches of recurring-charge invoices as you need. Post the batched and A/R will process recurring charges for customers. Make sure the customer records aren't inactive or on hold.
Use this fantastic feature and keep the cash flow going. So Start using recurring charges in SAGE 300 ERP and take the benefit.
Also Read:
1. Recurring Payables in Accounts Payable module of Sage 300 ERP
2. Create Recurring Entries in General ledger of Sage 300 ERP
3. How to Handle Recurring Transactions Feature in Sage Accpac ERP
4. Closing Procedure Checklist for Sage 300 ERP
5. Monthly Audit Methodology in Sage 300 ERP