In all businesses, apart from variable and fixed, there might be some miscellaneous charges. You apply these charges at the time of business transactions, especially on order/sales entries. And charges like Handling charges, Customize packing, Labour charges, Restocking fee etc.
You are running a business to sell goods of different shape and sizes. You apply taxes and miscellaneous charges like custom packing, day care handling etc. It seems to be confusing to apply miscellaneous charges without a master creation for you. How do you manage it without a proper master data creation? What if you want to revise such charges?  Confusions might enter.
New Stuff: Accumulate Purchase History Option
Now you are looking forward to a system where you mention few of these charges as master data and link to your order entry. Rates/charges can be revised accordingly.
If the business runs globally, miscellaneous charges rates would not be same. If currency is different than charges would be different too.
Let's take this with SAGE 300 ERP. In sage, you have the provisions to create, edit or delete the miscellaneous charges as per your business need. See the image below.
Order Entry module —> O/E setup —-> O/E Miscellaneous Charges.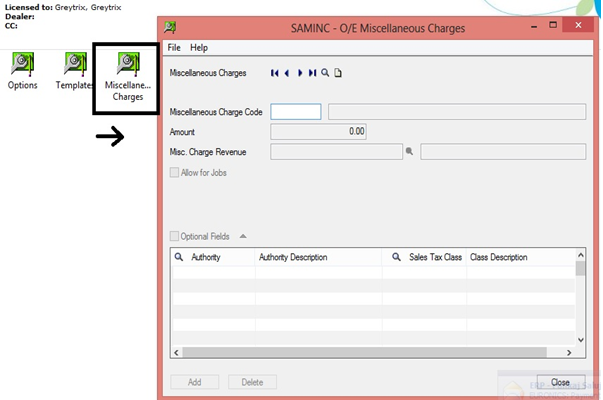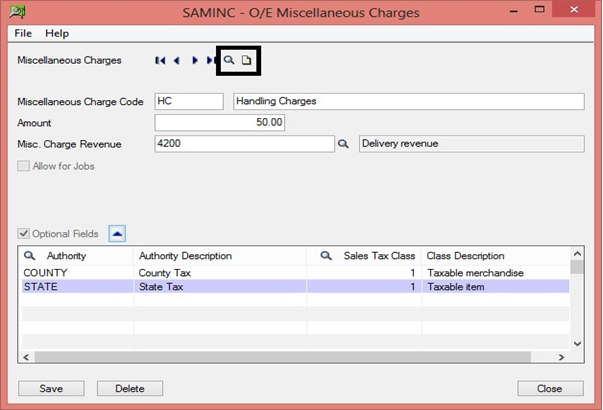 There are two options as marked in the image. One is for creating a new entry and other for finding the existing miscellaneous charge. Fill the information to create a new miscellaneous charge. Link the Misc. Charge revenue account to hit the preferred general ledger.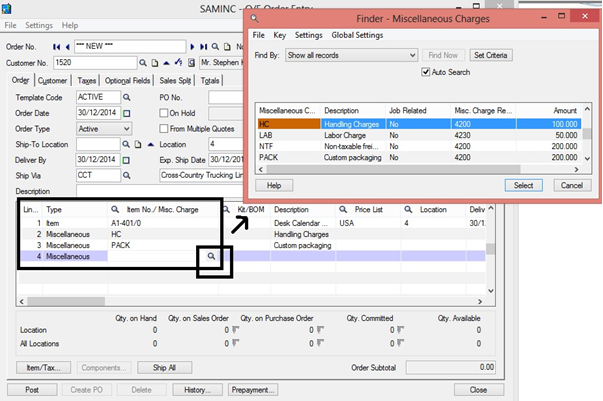 Now once you create all the miscellaneous charges. You are ready to apply or map it to your order entries. You won't have to choose the price manually at order entry but just select the charges and the price will come automatically.
How? Have a look on the image above.
O/E Transactions à Order Entry.
Select the customer and other details. Now you see a column as "Type". By default you see "Item" in the column but as soon as you double click the column field, it changes to "miscellaneous". In the next column you can choose the miscellaneous charge from the list you created before. The price and description will come along with the selection.
Keep making order entries. There are other benefits of using SAGE 300 erp as well. Keep reading blogs on sage 300 ERP
Also read:
1.  Customer Wise Item filter on Order Entry screen in Sage 300 ERP
2. Hide Completed Lines in Order Entry
3. Commit All in OE ORDER ENTRY
4. Sage 300 ERP Order Entry – All in One
5. Open Orders Inquiry for Sage 300 ERP Order Entry Screen