Inventory account sets are groups of general ledger accounts to which, you post Inventory Control transactions. You can either use just one account set for all your inventory items, or you can have multiple account sets as per your need.
For example, you may wish to use separate account sets for items assembled in different areas or items obtained from different suppliers.
When you are in Sage 300 Inventory Control Account Sets, it displays a group of General Ledger account numbers that are used to categorize transactions by accounts to which they are posted in General Ledger.
New Stuff: Stock Transactions Inquiry in Sage 300 ERP
To create Inventory Account Set, Go To Inventory Control –>I/C Setup –>Accounts Set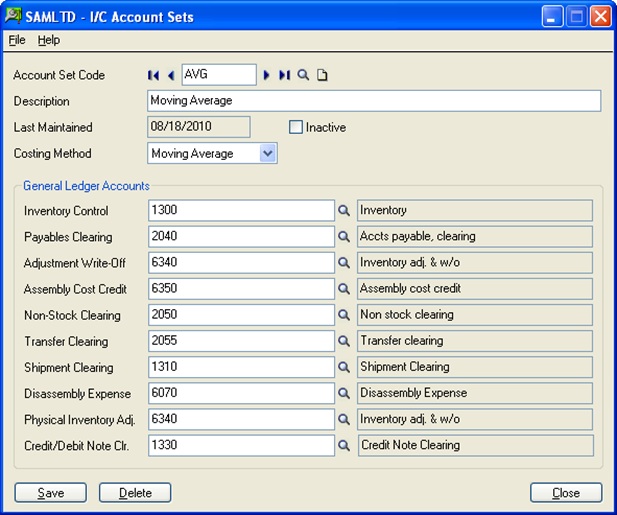 Find detailed information about General Ledger Accounts below:
Inventory Control: When you receive an item in stock, the Inventory Control account gets debited. It means it will increase the inventory. On the other hand, when you sell an item, that account is credited i.e. it reduces inventory.
Payable Clearing: This is used for receiving goods. When you enter a receipt in inventory, it will only go into Accounts Payable once you have been invoiced by the supplier. When you go to invoice it, it will then debit the Payables Clearing account and credit the Accounts Payable account.
Adjustment Write – Off and Assembly Cost Credit: These are for specific transactions like IC Adjustments and Bill of Materials. These are the default accounts that appear when you adjust an item.
Non-Stock Clearing: If an item is not set up as an inventory item in a location, then there are no quantities so it is considered a non-stock item and will go to the non-stock clearing account.
Shipment Clearing: If you do an order entry shipment prior to invoicing, it is going to use the shipment clearing account in place of Accounts Receivable. Once you've invoiced the goods, the Shipment Clearing gets credited and your Accounts Receivable gets debited.
Disassembly Expense: If you assemble goods through Bill of Materials, you can disassemble them back to their raw material. If there are any additional expenses incurred (like labor) in the process of disassembling the items, then this is the account that is used.
Physical Inventory Adjustment: If you have any adjustments, like increasing or decreasing an inventory in Inventory Control adjustments, there is a physical inventory adjustments account. This uses the physical inventory process to create the adjustment.
Credit/Debit Note Clearing: Similar to Shipment clearing but instead you would do a credit note or debit note. This account set is not going to immediately credit Accounts Receivable until you actually invoice. Instead, it is going to this clearing account.
You can use as many account sets as you need for your inventory items to maintain separate inventory control accounts for different types of inventory items and use different inventory valuation methods for different groups of items.
Hope this blog post was helpful in understanding different accounts in Account Set and their use.
About Us
Greytrix is a one-stop solution provider for Sage ERP and Sage CRM needs. We provide complete end-to-end assistance for your technical consultations, product customizations, data migration, system integrations, third-party add-on development and implementation expertise.
Greytrix has some unique solutions of Sage 300 integration with Sage CRM, Salesforce.com and Magento eCommerce along with Sage 300 Migration from Sage 50 US, Sage 50 CA, Sage PRO, QuickBooks, Sage Business Vision and Sage Business Works. We also offer best-in-class Sage 300 customization and development services to Sage business partners, end users, and Sage PSG worldwide.
For more details on Sage 300 Services, please contact us at accpac@greytrix.com. We will be glad to assist you.