Manufacturing is a very big and challenging sector. If we try to compare it with other sectors, it is also a very complex sector. It has large volumes in terms of Inventory, production, distribution and so on. Their revenues can run into thousands of crores.
So it becomes very critical for the manufacturing industries that they manage their internal as well as external aspects very efficiently. The internal aspects include raw materials, machinery and labor while the external aspects include the customers and sub-contractors.
New Stuff: Stock Transactions Inquiry in Sage 300 ERP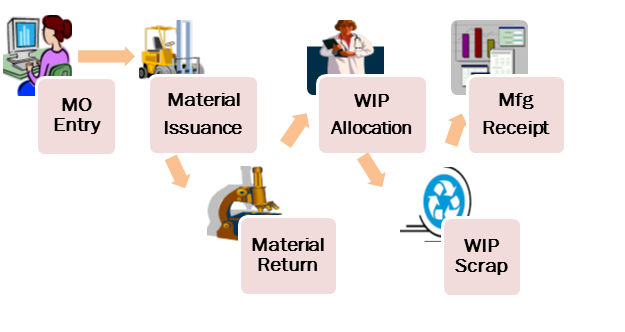 Sage 300 ERP, along with well-built Add-ons, helps these manufacturing units in maintenance, mapping and successful execution of internal as well as external aspects.
From a global perspective, Sage 300 ERP (along with its manufacturing Add-ons) can help configure the bill of materials including the following,
Raw Material Required
Operations the Raw Material will undergo
Labor Cost
Tool Cost
Co-Products etc
Going further, the processing of the Bill of Materials with the help of manufacturing order provides us with a variety of analysis including,
The costing of finished goods,
Costing of semi-finished goods in between the operations,
Consumption based on actuals,
WIP evaluation
Comparison of Standard cost v/s actual costing etc…
In addition to this, it also allows you to manage the inventory of the finished goods manufactured, store them at the desired location, and then follow a proper sales process in which, the finished goods are taken out of the factory unit.
All this is considering the global aspect of manufacturing. However, the procedures may vary depending upon the country you operate in. Consider an example of India where taxation plays a vital role in such industries right from raw material to finished goods. This is apart from the standard manufacturing practices where all the statuary compliances need to be maintained. Again the Sage 300 Add-ons help us configure these statutory requirements very efficiently in the system so that all the statutory reports are properly executed through the system and then submitted to the government authorities.
Thus, choosing a proper solution for your business is very critical when it comes to the manufacturing domain as there are lots of factors that need to be considered.
Also Read:
1. Advantages of ERP in Manufacturing Companies
2. Order Process for Manufacturing Company in Sage 300 ERP
3. BOM Setup for Manufacturing Company in Sage 300 ERP
4. Inventory Cost Analysis in Sage 300 ERP
5. Sage 300 ERP in Sugar Industry