We already have many valuable inventory reports in Sage 300 ERP.  Out of which, Stock Transactions Inquiry is the tool through which you can drill down up to transactions like Receipt, Shipment, Transfer etc. This tool is used to view transactions that result in inventory movements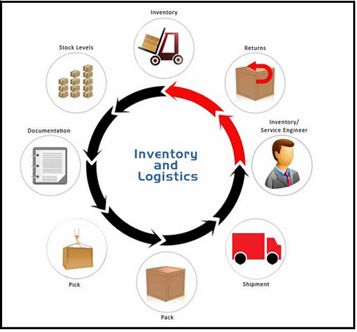 New Stuff: Date wise IC stock Transaction Report
You can have a look at the below screenshot of Stock Transactions Inquiry.
To run the Stock Transactions Inquiry, navigate to,
Inventory Control >> I/C Statistics and Inquiries >> I/C Stock Transactions Inquiry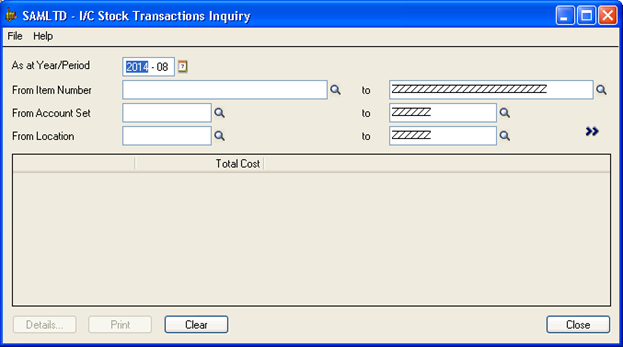 You can view this report on various parameters like Year/Period, Item Number range, Account Set range, Location range.
Now, let's review the output using Stock Transactions Inquiry of Sage 300 ERP.
To begin with, select the filter criteria for Date, Item, Account Set and Location as per requirements.
We are running this report at Year/Period = "2020-07", for item number A1-900/B, for all Account Set and for all Location.
Then click on GO >>button for the result which will be:  Opening, Transactions (Receipt, Sales, Transfer, Internal Usage, etc.) and Closing.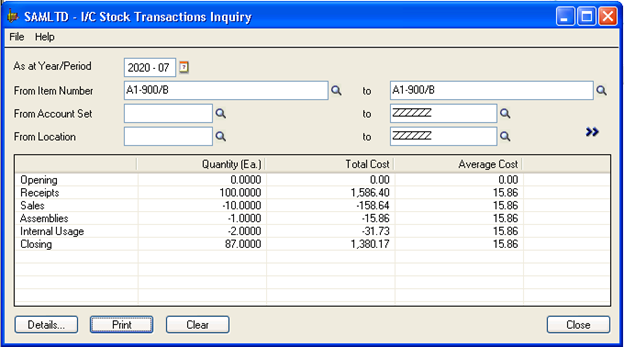 You can directly print the Stock Transaction report from this form by clicking on Print button.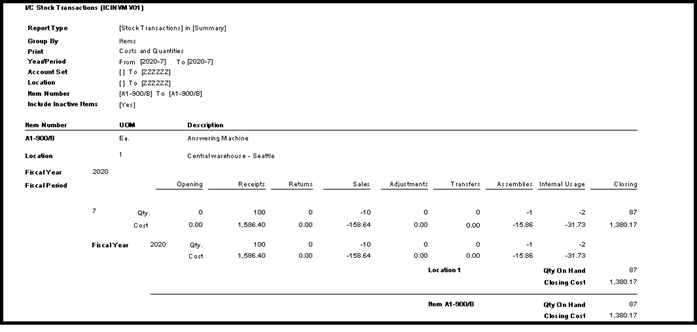 Here you could also be able to see the details of Receipts, Sales, Internal Usage, etc.
Select any line, for e.g. Receipts and click on Details button: A new window containing all the Receipt entries will appear.
You could refer the below screenshot for more clarity.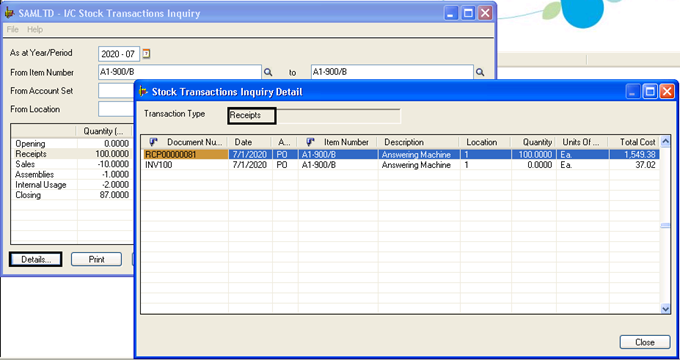 You can notice that there is a drill down on Document Number. By clicking on it, you can go to the transaction screen of Receipts in Sage 300 ERP (formerly named Sage Accpac).
This is a very useful inquiry tool for monitoring the inventory movement in Warehouse. You can identify the opening for the particular period, as well as new purchase receipts, new sales, new transfers and so on. In every company, management looks for such tools that can offer a quick status of the inventory without having to move to multiple reports. It can help companies in making projections for new sales and purchases in advance.
Also Read:
1. Sales History Inquiry in Sage 300 ERP
2. Tax Tracking Report in Sage 300 ERP
3. Kitting Item in Sage 300 ERP
4. Pending Shipments Inquiry in Sage 300 ERP
5. Inventory Movement Report in Sage 300 ERP