Sage 300 ERP provides with us a very useful configurable feature of tracking the tax amount separately in the account. There are business scenarios where one would need to track / see the tax amount to be captured in a single account from where one can understand the total amount of tax paid in a particular period transaction wise.
For this, one would have to do a configuration setting in the system and define a separate account where he wants to see the tax amount that is to be expensed out. To do the setting one needs to navigate to the below path.
The New Stuff: Restore your Sage 300 ERP Company Database backup in Sage 300 ERP
                                Common Services => Tax Services => Tax Authorities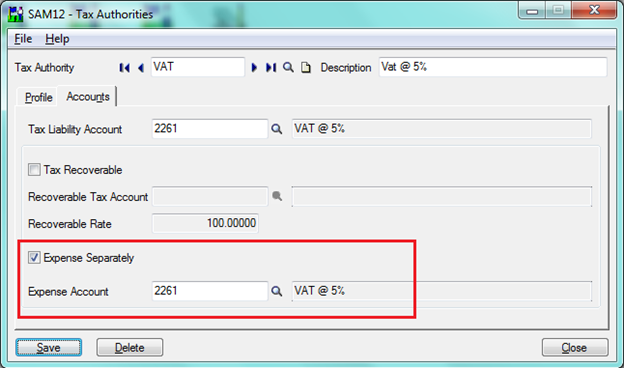 Here one needs to tick the check box highlighted and also define the account where one wishes to track the tax amount.
Once this configuration is done in the system, then the user needs to follow the process of using the tax authority in the tax group and the same tax group needs to be assigned in the transaction.
Here we are taking an example of Purchase Order Module and transactions Purchase Order, Receipt Entry and Invoice Entry. Once the transaction is done with this configuration the GL effect would be as per the below screenshot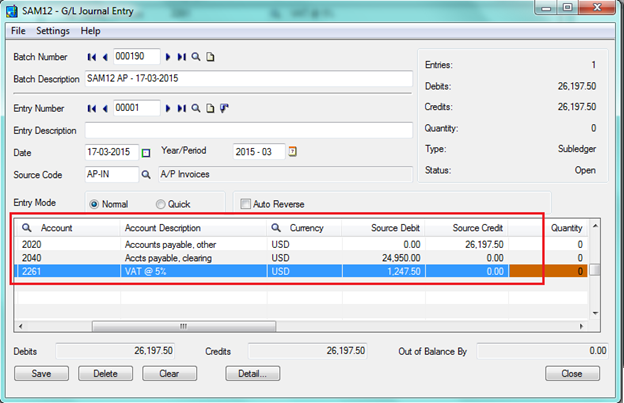 In the screenshot as we can see a separate account for VAT @ 5% where the tax amount is getting captured and can be tracked separately.
But, if the discussed configuration is not done in the system then this kind of transaction / effect would not be possible in Sage 300 ERP. The GL effect of the transaction where one would not define as separate account for taxes to be tracked separately can be seen in the below screen shot.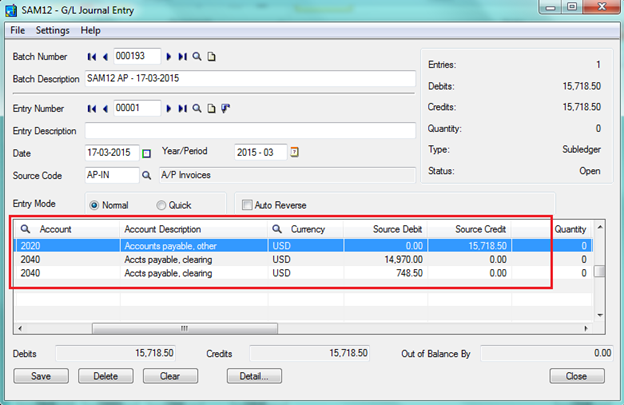 Here as one can see, the separate account is same as the 'Clearing' account and not any separate account, so in this case one would not be able track the amount separately.
By doing this configuration, one would be able to track the amount of tax paid by just viewing as single account in the GL instead of searching all the transaction in a desired period and then just display the total amount.
Also Read:
1. Tax Group in sage 300 ERP
2. Item wise tax calculation in Sage 300 (for Sales and purchase Transaction)
3. Tax Rates in Sage 300 ERP
4.Tax Classes in Sage 300 ERP
5. How to get Tax Included option "YES" by default in PO transactions