Delivering bulk shipments on time is one of the most crucial aspects for organizations across industries. There are a number of the tedious and time-consuming task involved to ensure that all the orders are processed and delivered accurately on time.
To simplify the shipment tasks of organizations and efficiently manage the costs while exceeding customer satisfaction, Greytrix with expertise in Sage 300 SDK brings to organizations implementing Sage 300 as their business management system, a component called "Quick Shipment". With this component, the shipping personnel can view all the open orders and post-shipment for desired orders.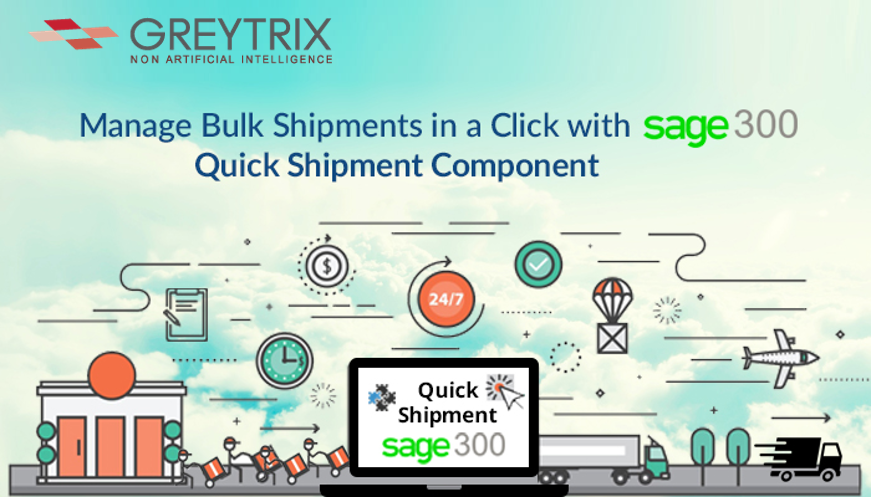 Quick Shipment is integrated with the Order Entry module of Sage 300. The program selects all the open and partially shipped orders. In order to ship, orders need to be individually selected and then clicking on "Ship All" button will process the shipment of all the selected orders. Any errors during the process can be easily interpreted using the log report generated by the program itself. After the shipment is done, users can print the Picking Slip from the interface itself.
Also Read: How to Ship Bulk orders in Sage 300?
Sage 300 Quick Shipment has advanced filtering parameters like Order date, Delivery date, Order amount and Order Number so that users can filter the records according to the desired range. Consolidate Shipments is provided that allows users to consolidate multiple orders in a single shipment.
Also Read: New enhancements in Quick Shipment for Sage 300
Sage 300 Quick Shipment is easy to deploy and works with previous versions of Sage 300 ERP 2012, 2014 and Sage 300 ERP v6.0 A.
Benefits of Sage 300 Quick Shipment
Facilitates bulk shipments for orders
Easy deployment in Sage 300 ERP
Version compatibility with different Sage 300 ERP
Print Picking slips after processing the shipment
If you are looking to gain greater visibility into specific business operations while increasing speed, efficiency and overall customer satisfaction with your Sage 300 ERP (Accpac), write to us at accpac@greytrix.com