In our last post, we discussed about Ways to replace Sage CRM license Key. We came across this new situation where after upgrading Sage CRM to v7.2 you might have observed message as "You are using an unregistered version of Sage CRM. Please register your Sage CRM software" in Sage CRM. Refer below screenshot.
The New Stuff: Quick look on Sage CRM tables



Sage has introduced a new Registration screen in CRM v7.2. While installation if you have not registered Sage CRM software, then this message comes on screen.
This message will go away if you registered your Sage CRM software. It can be register after installation. Kindly follow below steps to do the same.
1) Navigate to Administration | System | License Key Details.
2) Here you can see one more block for Manual Registration along with some encrypted key.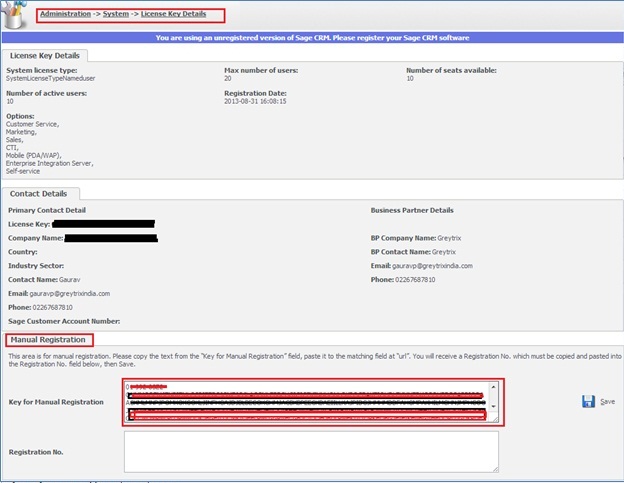 3) If you observe closely, it is mentioned that highlighted key needs to copy and paste it in the URL for manual registration. However URL is not mentioned.
4) Here is the URL where you need to navigate. http://productregistration.sagecrm.com/registerproduct
5) On navigating, you will observe Sage CRM Product Registration screen along with the same Contact Details and Business Partner Details blocks.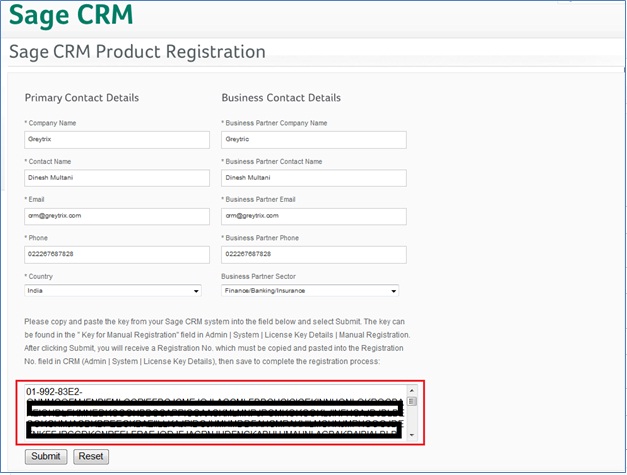 6) In the highlighted box, you need to paste the Registration key copied from Sage CRM.
7) Once registration is done, you will receive a Registration number which you need paste in the Registration Number field shown in the step 2 and click on Save button.
8) Once registration is done, message will be disappeared from the screen.
By following above steps one can easily register his Sage CRM software.
Also Read:
1) Difference of Sage CRM Editions
2) Login Error in Sage CRM
3) Enable external access for CRM entities from within CRM
4) Run SQL Queries through Sage CRM Components
5) Permissions To Modify The CRM Configurations