In our previous post, we discussed about Generating simple reports in Sage CRM. In this post we will be how you can quickly generate complex reports in Sage CRM using Advanced Find functionality.
——————————————————————————————————————————————
Need to send a Survey from Sage CRM as soon as order is Shipped?
Create your own customized Surveys' for Sage CRM – Greytrix Survey Module
——————————————————————————————————————————————
If there are complex queries which require parameters to be sent on the fly, then user needs to create CRM reports using Advanced Find option. Here are the steps to do the same.
1) Login to Sage CRM.
2) Navigate to Main Menu | Reports | Report Category (For Example, General, Marketing, Lead Reports etc.)
3) List of all reports will get displayed along with New button on Right hand side.
4) Click the New button for creating the new report.
5) Report Options screen will get opened. Fill Reports Details fields and select Advanced Find checkbox from the Select Column block. Refer below screenshot.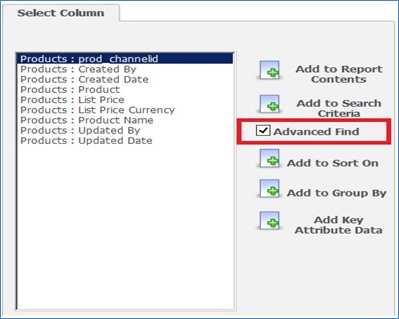 6) Select other necessary columns for Report Contents, Search Criteria blocks and click on continue button.
7) Advanced Find screen will get displayed to add search criteria as per requirement. Refer below screen shot.


8) Add the search conditions as you need and click on continue button.
9) Enter Title settings, Header setting, Summary Setting, Footer Settings, Column Formatting and Chart Options.
11) Finally click on Save button.
12) Report will get listed under Selected Report Category.



13) User can run the report using an arrow button available in front of report. Search criteria will get saved with name as Default. Refer below screen shot.
User can create different search conditions to create and run complex reports as mentioned above.
Also Read:
1) Showing images in Sage CRM Reports
2) Hyperlink on Report columns
3) Report Cloning in Sage CRM 7.2
4) Secure report output from export
5) Report Columns are now loaded in Alphabetical Order – Sage CRM 7.2