Sage CRM has reporting feature which allows one to represent data in rich graphic and interactive graphs. Reports data can be exported into PDF and Excel formats. These reports can be further customized as per business requirements.
In our previous blog, we had explained how images can be embedded into Sage CRM reports. https://www.greytrix.com/blogs/sagecrm/2013/10/07/showing-images-in-sage-crm-reports/
New Stuff: Price Calculation for Non-promoted customer in Sage CRM (prospect)
Consider you wanted to include your company logo in Sage CRM report. Currently when reports are printed in Sage CRM, you will observe that the default Panoply Logo gets displayed on the left hand side of report. Refer below screenshot.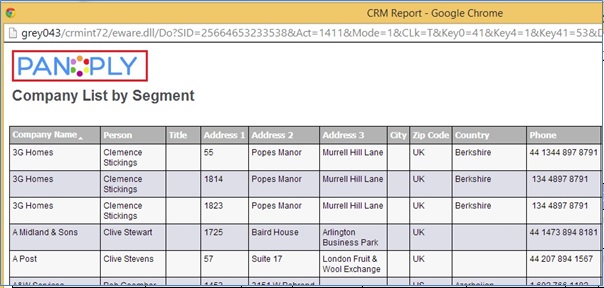 This image can be easily changed as per needs. You just need follow the below mentioned steps.
1) Navigate to Reports folder of Sage CRM installation directory.
<<Sage CRM Installation directory>>Program Files (x86)SageCRM<<CRM Instance>>WWWRootReports
2) You will observer logo.jpg and pdflogo.jpg files in the Reports folder. Delete both this files; Make sure you backup these files before deleting.
3) Place your company logo in the Reports folder and rename your Company logo to logo.jpg and pdflogo.jpg
4) Run IISRESET command and print the reports.
Now when you print reports in Sage CRM you will observe your logo is included in Sage CRM Reports.
Report Printed on Screen: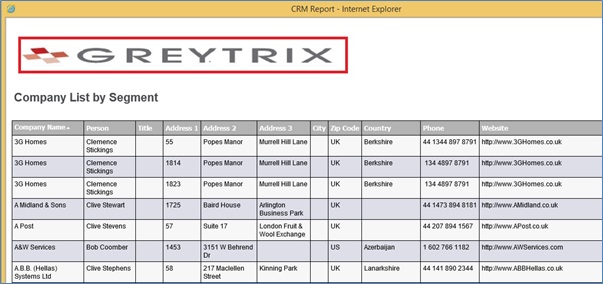 Report Printed in PDF:



In this way one can easily include their own company logo in Sage CRM reports.

Also Read:
1) Generating simple reports in Sage CRM
2) Steps to generate complex reports in Sage CRM using Advanced Find
3) Forecasting – Reports to field in CRM
4) Opening TCP-IP port to access SLX Web Reports from outside network
5) Historical Reports – Opportunity Closing History