In continuation to my previous blog on Creating Component and generating script files, here in this blog I will be explaining some advanced options to create components.
Related Post: Creating Component and generating Script files

As we all know that Sage CRM implementation is a long process and many developers might be involved in implementation of a single system. Whatever changes are made by team of developers gets scripted to current component. But, what if you want to script changes, made by each developer separately? What if you want to generate script of changes made during particular period by a specific user?
Sage CRM provides functionality called Advanced Options in component manger with which we can achieve this. Here is how it can be done.
1.  Go to Administration | Customization | Component Manager.
2.  Click on Component Details Tab
3.  Click on Advanced Options button. Clicking this button will display following screen.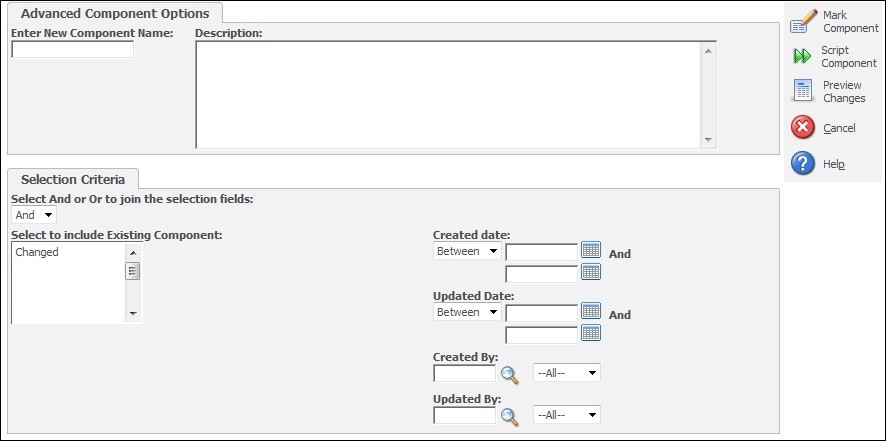 As shown in above screen, you can select current component and user from Created By field to generate script of changes made by that user. You can apply Created Date or Updated Date range to generate script of changes made during particular period. User can use Preview Changes button to view resultant script. If you don't select component from Select to include existing component list, then all changes matching to criteria will be scripted. And/Or condition can be applied to the selected criteria by selecting And/Or from Select And or Or to join the selection fields. User can use random search criterion to generate script of changes matching to criterion.
Also Read:
1) Run SQL Queries through Sage CRM Components
2) Re-Installing the component
3) Installing older version of CRM on windows 7
4) Sage CRM 7.2 Facebook Component
5) Ways to Replace Sage CRM License Key