In our previous blog we have discussed about the architecture and design of our GUMU integration for Sage ERP X3 and Sage CRM. Moving further in this blog, we will go through configuring GUMU for Sage CRM – Sage X3 integration from Sage CRM after installing the GUMU setup.
The highlight of the integration is that you can integrate multiple Sage ERP X3 folders with a single instance of Sage CRM. It is really simple to configure even if you are doing it for first time.
As a pre-requisite Sage ERP X3 Web services component must be installed and configured using Sage ERP X3 console.
For Configuring Sage CRM with ERP X3:
–   Go to Sage CRM Administration menu.
–   Click on Sage ERP X3   ->  Configuration. It will navigate you to GUMU Configuration screen.
New Stuff: Import Sage 100 Sales order data into Sage CRM



–   It will navigate you to GUMU Configuration list screen. Then click on "New" button.





–   You will navigate to below screen: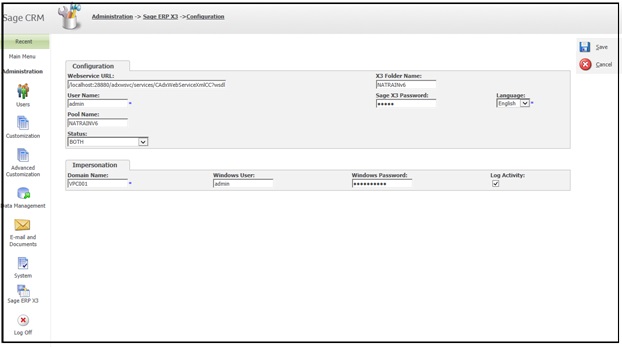 In this screen you just need to fill credentials required to connect to Sage X3. Below is the brief explanation for each field:
–   Webservice URL: GUMU uses the Sage ERP X3 Web services to connect to Sage ERP X3.  So here in this field we need to specify the URL of Sage ERP X3 web service.
–   X3 Folder Name: This will be the Sage ERP X3 folder name which you want to integrate with Sage CRM.
–   User Name: GUMU requires 1 Sage ERP X3 Web service User. This User should be a dedicated user and should be used only by GUMU integration.
–   Sage X3 Password: Specify the password for the Sage ERP X3 Web service User which you want to configure.
–   Language: Sage ERP X3 supports multiple – language. So while connecting to ERP X3, we need to specify the language which we want to use while access data from Sage ERP X3.
–   Pool Name: The web service pool name created while configuring Sage ERP X3 Web server component. A Web service pool is recommended for the integration.
–   Status: Here we can specify the synchronization status of integration whether it is one way CRM to ERP or ERP to CRM or both ways.
–   Domain Name: We need to specify the Domain name in which Sage CRM server and Sage ERP X3 servers resides. We require both servers to be in same domain.
–   Windows User: Input the windows domain user with administrative permissions which will be used by GUMU to connect to Sage ERP X3 through Impersonation.
–   Password: Specify the  Password for Windows domain user.

Also Read :-
1.   Import Sage 100 Sales order data into Sage CRM
2.   GUMU Sage 100 Tips – Items are not getting hyperlinked in Sage100 Item Lookup
3.   GUMU™ Sage 100 Tips – Creating additional address from Sage CRM to Sage 100
4.   GUMU™ Sage 100 Tips – Creating additional contacts from Sage CRM to Sage 100
5.   Enhance your sales cycle with new Sage 100 order entry features