In our previous blog post, we went through the steps to create additional addresses and contacts from sage CRM to Sage 100 ERP. Continuing the same series, we will discuss creating or setting up the Primary person at sage 100 ERP using GUMU™ Integration.
New Stuff: Promote Customers from Sage CRM to Sage 100 ERP
Creating/setting-up Primary contact for a Sage 100 ERP customer is very much similar to creating an Additional Contact in Sage CRM. User will have to follow below steps,
1.   Create new person in Sage CRM company which is linked to Sage 100 ERP (or select existing person).
2.   Check the sage 100 ERP check box for promoting this contact to Sage 100 ERP.
 GUMU Sage 100 Integration Trial | Video | Blog | Demo Machine

 3.   For setting this contact as primary contact, user will have to check the Set as default person for company check box.  This is an important step for setting a particular contact as primary contact in Sage 100 ERP.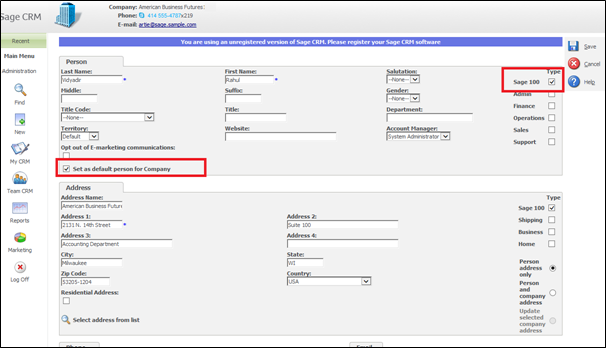 4.   Click on Save button to set the primary person at Sage 100 ERP.


This will set this particular Sage CRM contact as primary in Sage 100 ERP.
Also Read:
1.   Steps to install GUMU Sage 100 Module
2.   GUMU for Sage CRM – Sage 100 Integration DOs and DON'Ts
3.   One Time Processes for GUMU™ Sage CRM – Sage 100 integration
4.   List of Real time processes in GUMU™
5.   Synchronization setting in GUMU for Sage CRM – Sage 100