Everyone over here must be very much aware of Sage CRM installation process and its pre-requisites. But if you are facing Sage CRM installation for the first time then, it can be a little daunting. As successful CRM installation process itself determines or say confirms whether you will be facing tomcat related issues or not. In this blog, I will share one of my experience of CRM installation which led me to the scariest error of CRM world 'CRM url rewriter may not be working properly'
New Stuff: Calling Stored Procedure from Workflow Rule
Recently while installing CRM application on one of my client's machine, I was able to proceed Database Server Login Step successfully. As sometimes, it displays message to verify Database Name and TCP/IP Port but I was fortunate not face this one. However I was not as fortunate as I thought so, as on completion of installation process I faced the CRM url rewriter error.

As expected, this further led to failure of Interactive Dashboard, Export to Excel, and Mail merge functionality along with sData execution. The only error log which I could get was 'Database Connectivity Login Error'. To check the occurrence of this issue, we explored various forums and blogs written on this particular topic. But, found every configuration correct.
Just for some trial and run method, I went for checking the settings in SQL server configuration manager and there it was. The TCP/IP Port number which must be set as 1433 was configured wrong. However, making the changes straight away brought the CRM in non-working stage.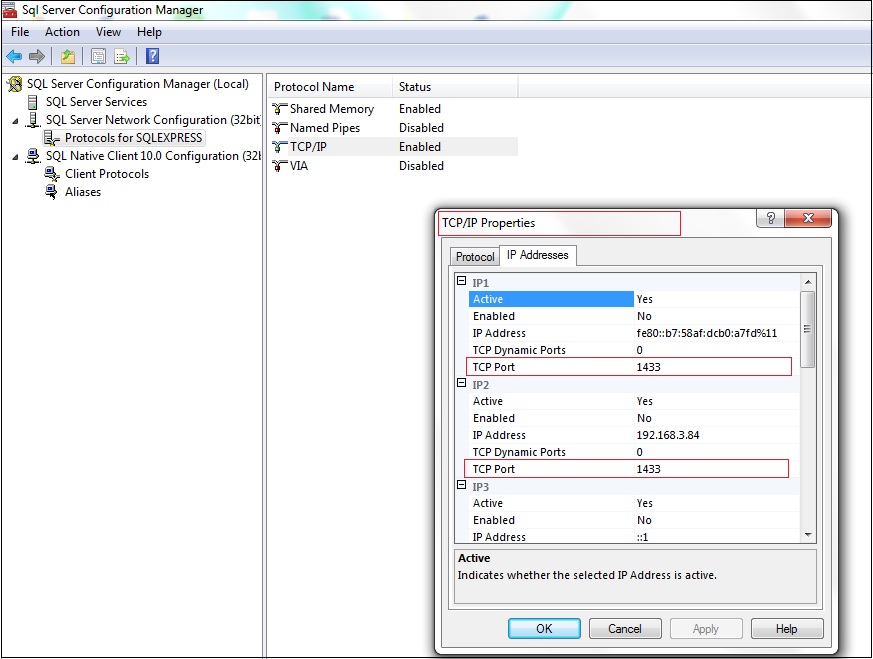 So the correct approach to rectify this issue was to uninstall and remove all the CRM related files from server. Make the necessary port changes on SQL server configuration manager and then install the CRM again.
Also Read –
1. URL Rewriter issue while upgrading to Sage CRM 7.2
2. Troubleshooting Export to PDF issue with Sage CRM
3. Sage CRM 7.2 Tomcat Setting for EC2 Amazon Server's Elastic IP
4. Error exporting reports to excel in CRM part 2
5. SageCRM and SQL Collation setup