When it comes to set up integration of Client side add-ons with web applications, security rights and restrictions always comes into consideration. We have been writing blogs on various process as well as features explored of Sage CRM Outlook Integration. In today's article, I will share my experience where I have been facing an issue at the time of synchronization thereby left with unsynced outlook items.
New Stuff: Merging Person records from Different Companies
Recently one of my client mistakenly deleted some of the appointment records which were created in Outlook and later on synched with CRM. But as they progressed further and tried to run the sync routine, it kept on giving the alert as shown in below screen shot.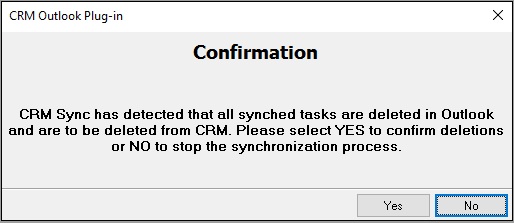 The alert message clearly stated that CRM Sync process needs confirmation to delete those items from Sage CRM which were marked as deleted from Outlook. As, saying 'No' in above prompt stopped the overall synchronization process.
But whenever I tried to progress the sync process by saying 'Yes', it lead me to new alert message as shown below.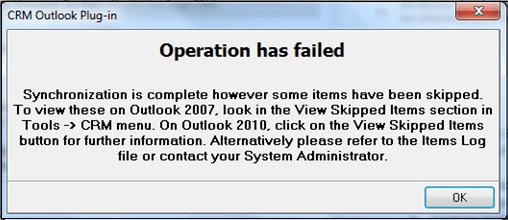 On reviewing the Skipped Items logs it came to my notice that the User Account who has been facing this issue continuously didn't have security access rights to delete communication records from Sage CRM. Providing necessary security profile rights and re-executing the Sync process from Outlook helped me to resolve this issue.
Also Read:
1. Everything you want to know about Outlook Integration
2. Outlook Integration – Uninstalling integration setup from Outlook
3. Features of Outlook integration with SageCRM 7.2
4. Outlook Integration – CRM Outlook Plugin Issue Part – 2
5. Outlook integration – Limit on number of emails that can be filed