The GUMUTM for Sage CRM – Sage 100 is a real time bi-directional integration link, using which
an user can promote Sage CRM company, sales order from Sage CRM to Sage100.
In addition to this, the information for Sage 100 customer flows between Sage CRM on real
depending on the configuration setting option selected.
Today in this blog we will discuss the steps to be followed after the Windows and SQL Password is
changed
1.  When the windows user password is changed
a. Update the password in the Configuration
i. Go to Administration
ii. Then select Sage 100 Administration
iii. Click on Configuration
iv. Then select the company code
v. Click on change and enter the updated Windows User also enter the Sage 100 password.
vi. Then click on Save.
b. Update the password against the Node-red windows scheduler task
i. Select the Node-Red Task
ii. Right click on it and select properties
iii. Then click on Ok enter the Windows user password, then click on OK again.
c. Similarly update the password for YTD – LYTD task
2. When SQL password is changed
a. Create a new linked server (For Sage 100 Standard and Advanced)
i. Delete the existing linked server by logging in to SQL Server Management application (Linked server can be found under Server Objects)
ii. To create a link server to have the connection between CRM and Sage 100 company codes, for that follow the below steps: –
This file is located at GUMU Installation directory (i.e., C:\Program Files (x86) \Greytrix\GUMU for Sage CRM Server). Assuming GUMU Workstation is installed on C drive. For creating Link server for new Sage 100 company code, a user will have to double-click on "CreateSQLLinServerForNewFolder.vbs" VB script which will appear the below screen.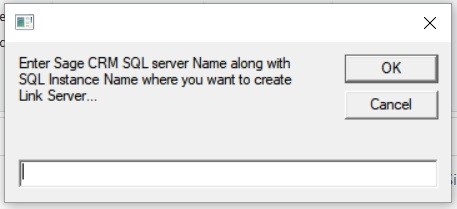 Below is the list of details which are required to be filled in utility,
i. Sage CRM SQL server name
ii. Sage CRM Database name
iii. Sage CRM SQL admin level user name
iv. Sage CRM SQL password for the user entered
v. Sage 100 server path till MAS90 folder
vi. Sage 100 application admin level user name
vii. Sage 100 application password
viii. Sage 100 Company Code
ix. Windows domain admin level user
x. Windows password
2. It will create a new Link Server in Sage CRM SQL server with MAS_CompanyCode format as below. Similarly by following the above link server steps user can create multiple linked servers so as to connect multiple Sage 100 company codes with single CRM instance.
b. Update the password in Node-red URL.
i. Access the Node-red URL
ii. Double click on MSSQL-PLUS node
iii. Click on the edit button besides connection name
iv. Update the latest SQL application password
v. Click on update then click on done
vi. Click on deploy
For more information about GUMU™ integration link, please refer below links:
Blog link:
https://www.greytrix.com/blogs/sagecrm/tag/gumumas/
YouTube video link:
https://www.youtube.com/watch?v=r1QlaTC0PX4
For any queries related to GUMU integration, you can contact us at sage@greytrix.com
About Us
Greytrix – a globally recognized and one of the oldest Sage Development Partners is a one-stop solution provider for Sage ERP and Sage CRM organizational needs. Being acknowledged and rewarded for multi-man years of experience and expertise, we bring complete end-to-end assistance for your technical consultations, product customizations, data migration, system integrations, third-party add-on development, and implementation competence.
Greytrix has some unique integration solutions developed for Sage CRM with Sage ERPs namely Sage X3, Sage Intacct, Sage 100, Sage 500, and Sage 300. We also offer best-in-class Sage ERP and Sage CRM customization and development services to Business Partners, End Users, and Sage PSG worldwide. Greytrix helps in the migration of Sage CRM from Salesforce | ACT! | SalesLogix | Goldmine | Sugar CRM | Maximizer. Our Sage CRM Product Suite includes addons like  Greytrix Business Manager, Sage CRM Project Manager, Sage CRM Resource Planner, Sage CRM Contract Manager, Sage CRM Event Manager, Sage CRM Budget Planner, Gmail Integration, Sage CRM Mobile Service Signature, Sage CRM CTI Framework.
Greytrix is a recognized Sage Champion Partner for GUMU™ Sage X3 – Sage CRM integration listed on Sage Marketplace and Sage CRM – Sage Intacct integration listed on Sage Intacct Marketplace. The GUMU™ Cloud framework by Greytrix forms the backbone of cloud integrations that are managed in real-time for the processing and execution of application programs at the click of a button.
For more information on our integration solutions, please contact us at sage@greytrix.com. We will be glad to assist you.