Sage CRM serves as comprehensive solution for Customer Management needs. With each upgrade and iteration, Sage consistently introduces new features and refines user functionality. These continuous enhancements aim to streamline Customer Relationship Management, making it more accessible and user-friendly. The ultimate goal is to enhance adoption rates, improve data accuracy and completeness, gain deeper customer insights, and reduce errors through customization—all of which significantly boost overall business productivity.
In today's highly competitive business landscape, maintaining a strong corporate identity is crucial. One effective way to do this is by customizing application themes to align with your company's guidelines. Customized application themes ensures that your company's visual identity is consistently represented across all your digital touchpoints. A well-organized theme can improve user experience by making your application more visually attractive and user-friendly. This, in turn, can boost user engagement and satisfaction.
In earlier blog, we have already explained, how to override Login screen after release of Sage CRM 2023 R1. Refer below blog link for the same.
Related Stuff: Customize User Interface of Login screen in Sage CRM 2023 R1
In this blog, we will guide you through the steps to customize your Sage CRM application themes to meet your company's guidelines. Sage CRM is already providing the inbuild standard CSS file while installing the Sage CRM2023 R1. i.e. RedefinedStyles.css, where we can add the CSS code to override current existing themes. Sage CRM offers a range of customization options to modify current themes of screens or specific elements like list, buttons etc. Here, we have explained how to change the color of the display grid or list, button and hyperlinks on the screen.
Below is the screenshot of the current Sage CRM theme for list or grids, filter buttons and hyperlinks.

Now, follow below mentioned steps to override the stranded screen themes.
1. Open RedefinedStyles.css file from below mentioned path.
<Sage CRM Installation Folder>\WWWRoot\Themes\custom
2. Add necessary CSS code in RedefinedStyles.css file to make changes in the screens. Below is some sample code which will help you to modify the grid or list, button and hyperlinks on the screen.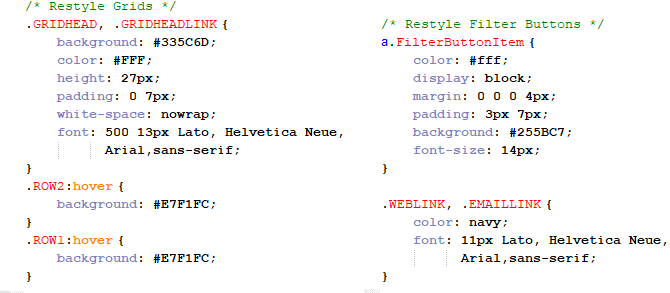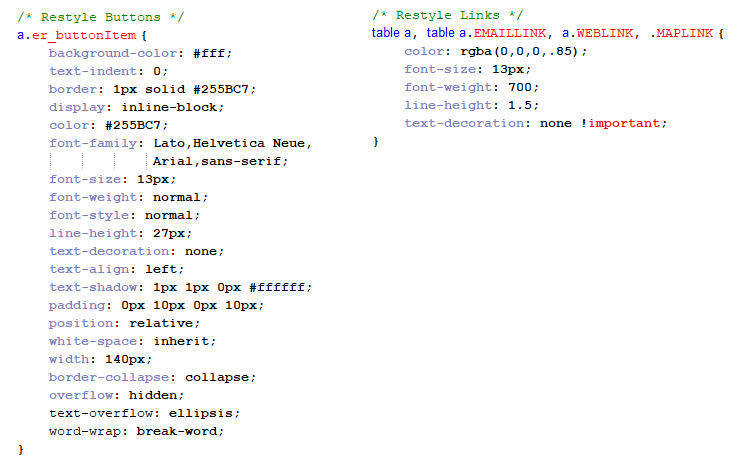 3. After adding above code, save the RedefinedStyles.css file.
4. Need to use the "! important" rule in CSS file to apply your CSS customizations as shown in above screenshot.
5. Open IIS Manager and recycle the CRM App Pool to apply your customizations. Also, clear browser cache to display CSS customizations correctly.
After doing the above changes, we can see that the look of display grid or list, buttons and hyperlinks is changed as per the theme changes as shown in below screenshot.

Note:
These customizations do not apply to reports and interactive dashboard layout and gadgets.
In case, if you want to roll back your native customizations then you can either modify or remove CSS code from RedefinedStyles.css file.
In this way we can customize the List, buttons, hyperlinks etc. in Sage CRM. Customizing Sage CRM application themes not only enhances brand consistency but also fosters a more engaging and productive work environment.
About Us
Greytrix – a globally recognized and one of the oldest Sage Development Partners is a one-stop solution provider for Sage ERP and Sage CRM organizational needs. Being acknowledged and rewarded for multi-man years of experience and expertise, we bring complete end-to-end assistance for your technical consultations, product customizations, data migration, system integrations, third-party add-on development, and implementation competence.
Greytrix has some unique integration solutions developed for Sage CRM with Sage ERPs namely Sage X3, Sage Intacct, Sage 100, Sage 500, and Sage 300. We also offer best-in-class Sage ERP and Sage CRM customization and development services to Business Partners, End Users, and Sage PSG worldwide. Greytrix helps in the migration of Sage CRM from Salesforce | ACT! | SalesLogix | Goldmine | Sugar CRM | Maximizer. Our Sage CRM Product Suite includes addons like Greytrix Business Manager, Sage CRM Project Manager, Sage CRM Resource Planner, Sage CRM Contract Manager, Sage CRM Event Manager, Sage CRM Budget Planner, Gmail Integration, Sage CRM Mobile Service Signature, Sage CRM CTI Framework.
Greytrix is a recognized Sage Champion Partner for GUMU™ Sage X3 – Sage CRM integration listed on Sage Marketplace and Sage CRM – Sage Intacct integration listed on Sage Intacct Marketplace. The GUMU™ Cloud framework by Greytrix forms the backbone of cloud integrations that are managed in real-time for the processing and execution of application programs at the click of a button.
For more information on our integration solutions, please contact us at sage@greytrix.com. We will be glad to assist you.