Sage Intacct is a financial management and accounting software. The software primarily serves small to midsize businesses. It has an ability to automate financial processes and also provides financial reporting.
In this blog, we will be discussing about Warehouses in Sage Intacct.
Warehouse is the place/location for storing goods or materials that are later distributed when an order is shipped. Based on the business of an organization, the warehouse can be smaller to a single spare room and as large as a huge area to a building.
Sage Intacct allows to store and manage the warehouse information. The warehouse is assigned to the goods wherein a user can keep a track of goods count. Sage Intacct also allows to maintain hierarchy of warehouse by assigning child warehouses to its parent warehouse. As an example, consider a Company warehouse having multiple Distribution center warehouses as its child warehouses. Hierarchy structure allows tracking of the goods quantities and values to the root level.
For list of Warehouses, go to Inventory Control > Setup > Warehouse.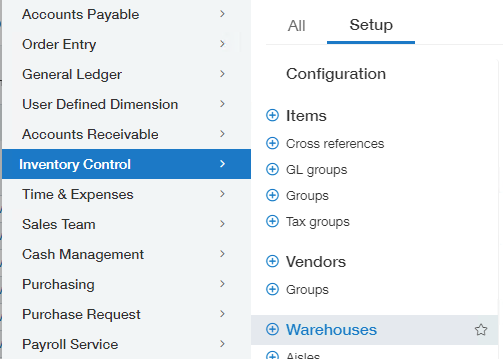 Adding a new Warehouse – Adding a warehouse is a very simple process, follow below step by step process.
To add new warehouse, navigate to Inventory Control > Setup > click on + sign present just before Warehouses.
Enter a short ID in Warehouse ID as warehouse identifier, Name for the warehouse, select the Location from the list.
For assigning the responsibility, specify the employee as a Manager ID from the list.
If the warehouse is to be added as a child, select its parent from the list.
Select Contact and Ship-to contact from the available list.
Status can be set as Active or Inactive based on its availability to use.
Click Save to add new warehouse in Sage Intacct.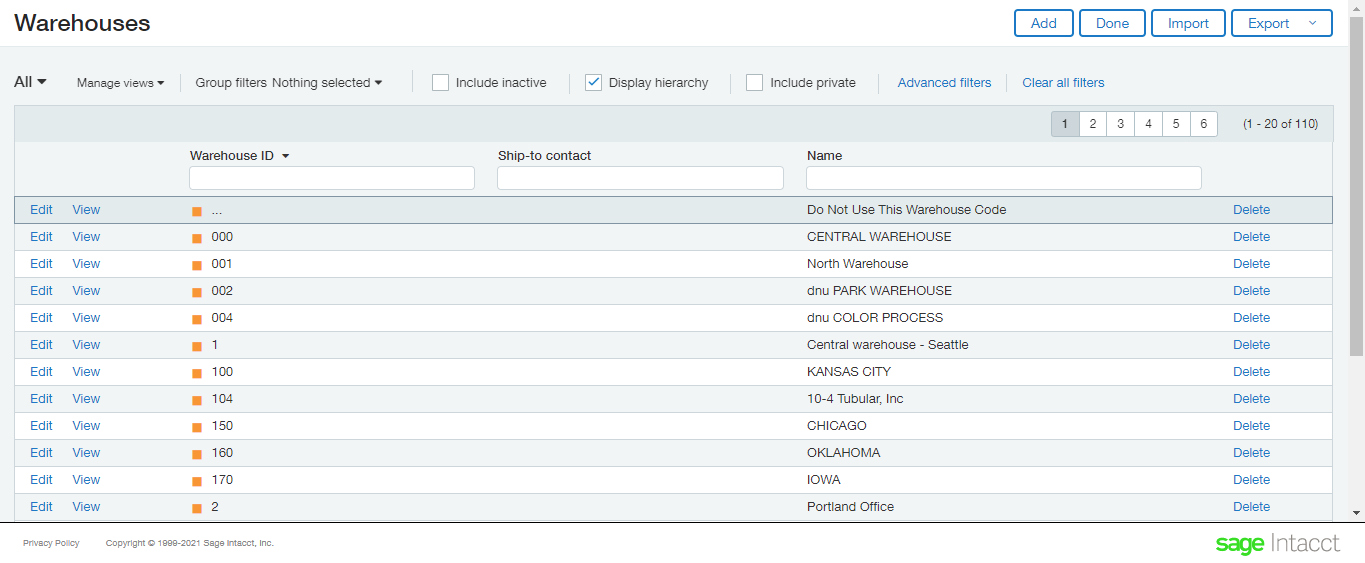 Import Warehouse – Importing is a quicker process to add a new warehouse.
To import a warehouse, navigate to Inventory Control > Setup> Warehouses > Import.
Click on Import button on top right of the page, a dialog box will be displayed for selection of file. Prepare the file in importable template.
Browse the file prepared importable file and click on Import.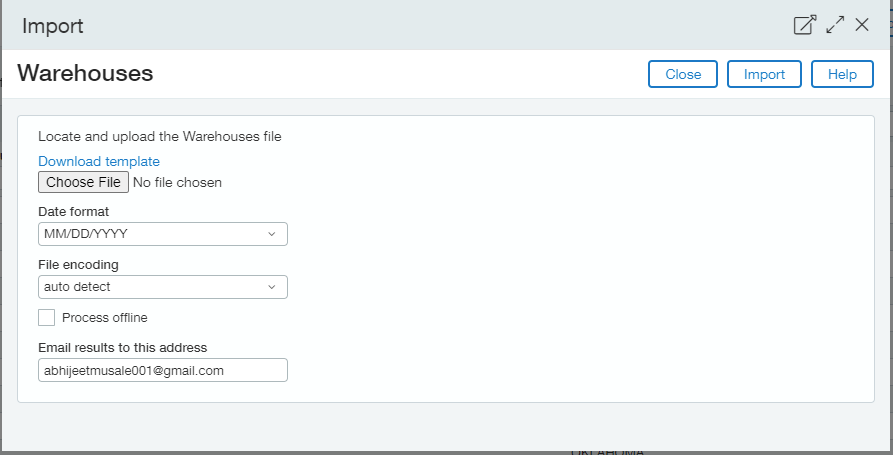 Edit a Warehouse – When there are any changes required, we can easily edit an existing warehouse.
To edit a warehouse, navigate to Inventory Control > Setup > Warehouses.
All the existing Warehouses will be listed, click on Edit button present on left side of warehouse that needs to be edited.
Make the changes as needed and Click on Save.
Note that Warehouse ID is not editable once saved.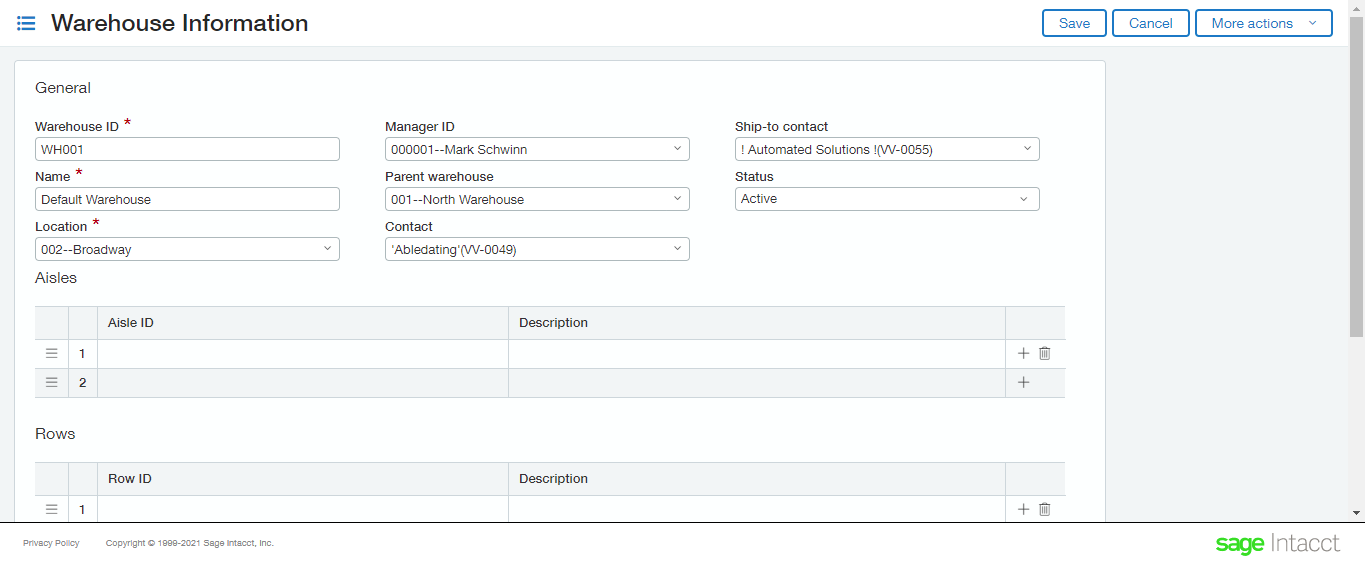 Warehouses are the important part of an industry that stores and keeps track of the goods and materials required by an organization.
About Us
Greytrix – a globally recognized and one of the oldest Sage Development Partner is a one-stop solution provider for Sage ERP and Sage CRM organizational needs. Being acknowledged and rewarded for multi-man years of experience and expertise, we bring complete end-to-end assistance for your technical consultations, product customizations, data migration, system integrations, third party add-on development and implementation competence.
Greytrix has a wide product range for Sage Intacct- a Cloud ERP. This includes migrations from QuickBooks | Sage 50 | Sage 100 | Sage 300 to Sage Intacct. Our unique GUMU™ integrations include Sage Intacct for Sage CRM | Salesforce | FTP/SFTP | Rev.io | Checkbook | Dynamics 365 CRM | Magento | Rent Manager | Treez | Avalara Avatax | Blackline SFTP. We also offer best-in-class Sage Intacct Development Services, Consulting services, integrated apps like POS | WMS | Payroll | Shipping System | Business Intelligence | eCommerce for Sage Intacct to Sage business partners, resellers, and Sage PSG worldwide. Greytrix constantly develops apps, products, and add-ons to enhance user experience. Sage Intacct add-ons include AR Lockbox File Processing.

Greytrix GUMU™ integration for Sage CRM – Sage Intacct, Sales Commission App for Sage Intacct, and Checkbook.io ACH/Digital Check Payments for Sage powered by GUMU™ are listed on Sage Intacct Marketplace.
The GUMU™ Cloud framework by Greytrix forms the backbone of cloud integrations that are managed in real-time for the processing and execution of application programs at the click of a button.
For more information on Sage Business Cloud Services, please contact us at sagecloud@greytrix.com. We will like to hear from you.