Sage Partner Summit 2021 is finally happening and with a motto, we all grow Stronger Together!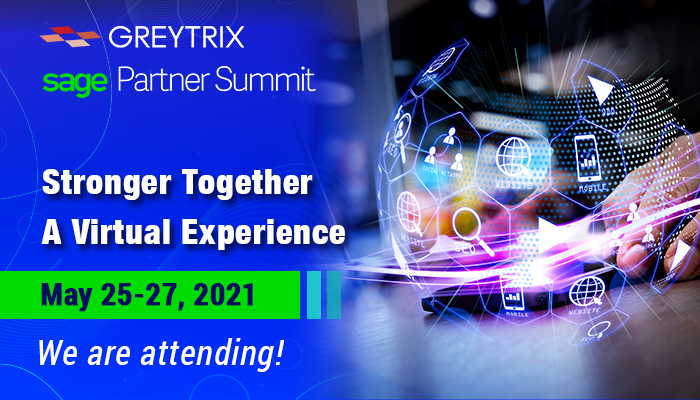 With resilience and resourcefulness, people are harnessing the power of technology to find new ways to reach those in need during this pandemic. The worst health crisis in memory is no match for this proud and active generation of mankind. Technology has helped people to bridge the gap from fear to hope and from confusion to understanding.
Year on year Sage – a leading provider of Enterprise Resource Planning, and CRM systems has been delivering out-of-the box solutions to Partners, Resellers, and Business Builders worldwide. Sage has been hosting Sage Summit events every year which serve as a platform for the global audience to optimize their business solutions and redefine business. This year the Sage Partner Summit will bring together Sage Intacct, Sage Intacct Accountants Program, Sage X3, Sage CRE, and Sage Business Management Solutions (Sage 100, Sage 200, Sage 300) franchise partners in one setting in a multi-day event from May 25 – 27, 2021. The event is happening virtually for the first time in history ensuring you have the comfort and solace of your surroundings with the benefits of meeting professionals from around the world increasing your reach.
Greytrix – one of the oldest and the largest Development Partner for over two decades and a regular sponsor for Sage events will be exhibiting as a Featured Sponsor at the event and is one among the first five registrants for the event.
Why should you attend?
Well, we have compiled a series of reasons of why this event is a must-go for all medium segment Sage Partners!
Unlike previous years, this time the event is happening virtually which saves attendees all the hassles of traveling and hotel bookings.
Access to some of the top Sage leaders and Partners.
Flexibility to navigate sessions, schedule meetings, listen breakout tracks in preferred languages, access plethora of Partner-ready content with insights and tools for your business.
200+ learning opportunities.
100+ attendees across multiple regions
Availability of conference content on-demand, post-event.
And off course most important to grow STRONGER TOGETHER!
What else?
Well, there's a lot more to explore! Do you know who's joining us for Sage Partner Summit this year? Featured speakers such as:
Featured speakers
The Summit will also feature Sage's leaders like:
Sage speakers

Steve Hare
Chief Executive Officer, Sage
Learn more

Aaron Harris
Chief Technology Officer, Sage
Learn more

Cath Keers
Chief Marketing Officer, Sage
Learn more

Lee Perkins
Chief Operating Officer,
Sage
Learn more

Nancy Harris
Managing Director,
North America, Sage
Learn more

Stanimira Koleva
Executive Vice President,
International markets, Sage
Learn more

Paul Struthers
Managing Director,
United Kingdom and Ireland, Sage
Learn more

Aziz Benmalek
Executive Vice President, Partners
& Alliances, Sage
Learn more

Dan Miller
Executive Vice President, Medium
Business Segment, Sage
Learn more
who will throw light on the vision and mission of Sage Strategy for the new financial year to benefit the Sage Partner ecosystem, the Sage Medium Segment and much more!
What do you get?
While the event in itself is phenomenal with multiple learning tracks and engagement opportunities with some of the top Partners and Sage's leaders which can help businesses harness the advancements of technology tuning their business to derive maximum output, attendees also get a chance to participate in one-on-one chat rooms and avail offers and contests by the exhibitors.
Do you know what Greytrix has special this year?
Being recognized for its 5-star rated GUMU™ app on Salesforce AppExchange for Sage ERP – Salesforce Integration and Sage X3 – Sage CRM systems on Sage Marketplace, Sage Intacct – Sage CRM systems on Sage Intacct Marketplace, Greytrix combines the unmatched experience and specialized skills of working across industries & verticals driving innovation to ameliorate the way businesses operate with its 30+ integration solutions.
Visit Greytrix booth to participate and win some exciting prizes with a chance to also explore what's in the Greytrix bag this year. Connect to know how Greytrix can enhance your business operations with tailored solutions from GUMU™ Cloud designed for plug and play with pre-defined mappings and tailored to fit every business integration needs. Being acknowledged and rewarded for multi-man years of experience, we bring complete end-to-end assistance for your technical consultations, product customizations, data migration, system integrations, third-party add-on development and implementation competence be it any Sage ERP/CRM – Sage Intacct, Sage X3, Sage 100, Sage 300, Sage 500 or Sage CRM.
Visit Sage Thought Leadership Podcast to listen to the exclusive podcast by Kumar Siddhartha, CEO Greytrix elaborating on the latest technology in application Integration!
Join our session at Sage Partner Summit on 25th May 2021 at 8:30 AM EDT to know how you can easily integrate multiple enterprise applications using GUMU™ Cloud.
We also look forward to meeting our Sage business Partner friends and Sage team at the event.
Let's grow Stronger Together and see you soon virtually at the event!-