Flexibility is the deciding factor in new businesses as requirements change with time. New businesses rely on efficient planning, management and resources for daily operations. This is where an ERP comes into picture as a robust ERP system in place can streamline operations hence boosting efficiency with statistical data to manoeuvre competition.
However, with the advancements in technology the fundamentals of ERP have evolved and given rise to SAAS platforms allowing businesses to minimize costs and eliminate data redundancy. SAAS application platform like GUMU™ Cloud equips you to integrate seamlessly with simple plug and play operations wherein you can have the leverage of selecting the delivery model and adapt to requirement changes for various Sage ERP like Sage Intacct, Sage X3, Sage 100, Sage 300 by integrating it with best of the breed CRM like Salesforce, Dynamics 365 CRM, Sage CRM, eCommerce like Shopify, Magento, Payment Gateways like Checkbook, POS system. Read further to know about the top 4 reasons on why SAAS/ iPAAS for Sage is a better option in today's dynamic business world with GUMU™ Cloud.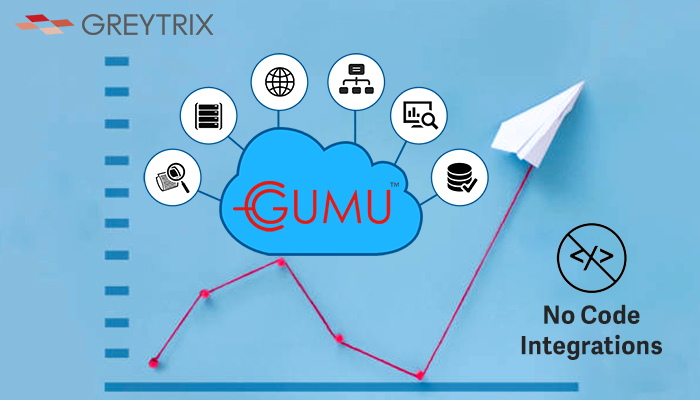 Affordable and Easy
Cloud ERPs are popular for their implementations and cost effectiveness. Being convenient for new businesses due to low installation costs, they provide easy accessibility and storage over the cloud. GUMU™ Cloud offers the next generation plug and play/ no code integration platform (iPAAS for Sage) with hundreds of pre-built plugins for SAAS/On-premises Apps or custom plugins strengthening SMEs to utilize the perks of an ERP system without having to invest more.
Quick Integrations
GUMU™ Cloud based SAAS platform enables organizations to have flexibility in integrations at the click of a button meeting feature demands and specific requirements. Integrating with new age technologies, applications, servers and systems becomes easier in an open environment hence scalable for mid-sized businesses. Pre-defined mappings are tailored to fit every business integration needs. Customers can easily integrate multiple enterprise applications with GUMU Cloud.
Improved Security
Growing businesses constantly ply on growing amounts of data which makes ensuring data integrity an essential factor. GUMU™ Cloud secure encryptions offer predefined procedures to forecast risks. Moreover, GUMU™ Cloud offers integration leveraging software as a service for rapid development and deployment of integration solutions minimizing risks.
Enhanced Business Performance
GUMU™ Cloud helps organizations streamline operations with simplified integrations at the tap of a button leading to fewer downtimes and increased speed. Patch upgrades are automatically synced to the cloud enhancing productivity and improving overall business performance.
Design and implement the functionality of diverse software systems by quick integrations through GUMU™ cloud, a platform which forms the backbone of cloud integrations that are managed in real-time for processing and execution of application programs. Envision your business towards growth and gain the cutting edge with customized Connectors and Apps through GUMU™ Cloud.
Cloud SAAS/ iPAAS like GUMU™ Cloud are agile, fast and easy to use. So, if you too have been contemplating on the idea of adopting a modern and scalable cloud integration solution, now you know why GUMU™ Cloud is your ideal option!